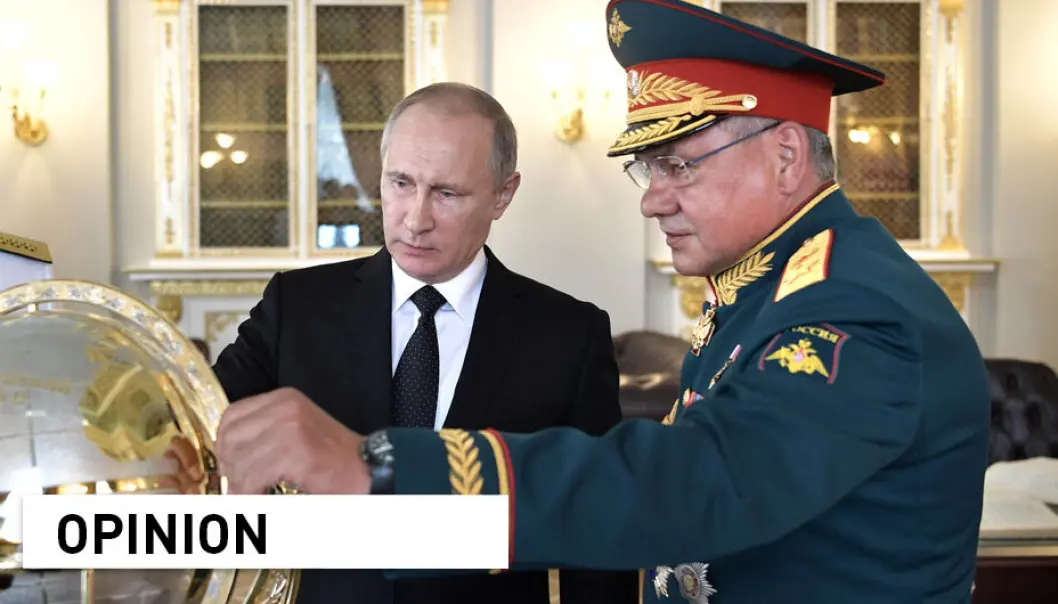 Norwegian geographers:

"We cannot be members of the same association as Putin"
OPINION: We distance ourselves from the close relationship between science and power in totalitarian Russia, write Norwegian geographers.
The International Geographical Union (IGU) decided on March 7 to suspend Russia's membership until the Russian invasion of Ukraine ends. Prior to this decision, the IGU had adopted a sharp condemnation of the invasion.
The National Committee for Geography in Norway took the initiative to request that Russia be expelled from the IGU and received the support of other Nordic and two Baltic countries to their demand, as well as support from Germany and Slovenia. There were also two other similar initiatives.
This is not the first time such a demand is presented. An earlier proposal to exclude Russia from the IGU was made in connection with the invasion of Crimea in 2014, but it was voted down. Russia is a well-established member of the Union and it is not the only member state with a poor record on democracy and academic freedom.
Putin as chairman
The reason for the ban is not only that the invasion of an independent neighboring country is contrary to international law. We also distance ourselves from the close relationship between science and power in increasingly totalitarian, rather than just authoritarian, Russia.
There are close ties between the Russian Geographical Society (RGS) and the National Committee for Geography and thus the IGU. Vladimir Kolosov is on the board of both the National Committee and the RGS. He was also president of the IGU in 2014. The president of the RGS is the Russian Federation's Defense Minister Sergei Shoigu. RGS has a Board of Trustees whose chairman is Vladimir Putin. Several board members belong to his inner circle, including several oligarchs.
The post-World War II settlement started a process of change that led to the early retirement of Nazi-inspired individual scholars.
Putin defined the role of the Society in a quote on the RGS website on March 19, 2022: "The activity of the Russian Geographical Society is aimed at promoting patriotism. One cannot work for the Society without love to one's homeland and native land." A similar expression about the role of research in Russia was contained in a statement by the Russian Rectors' Board published in early March in support of the invasion.
Pseudoscientific narratives
Putin and his regime attach great importance to the construction of various pseudoscientific narratives to justify the assault on Ukraine. The historical-geographical dimension relates to a vision to recreate a Greater Russia, consisting of the existing Russia plus Ukraine, Belarus and various other bordering areas.
This narrative is based on a kind of natural affiliation for the Russian brotherhood to place and region, not unlike Blut und Boden (blood and soil) of the Third Reich. Many were left wide-eyed when Putin explained that Ukraine is not a real nation.
The security dimension is an extension of the Cold War in which the former Soviet Union demanded a buffer zone of Kremlin-friendly satellite states as security against the West. The Brezhnev doctrine was an expression of the Kremlin's right to intervene militarily in the event of a threat to socialism, as in the invasion of Hungary in 1956 and of Czechoslovakia in 1968. Putin's great power ambitions are also clearly linked to Heartland theorizations according to which Central Europe or Mitteleuropa is considered to be the key to control of the Euro-Asian continent and thus also the possibility of being a global power factor.
Geography as an instrument of colonialism and use of force
For Western academics in 2022, the interweaving of power, subjects and rhetoric is perceived as a reminiscence from a bygone era, but it can also provide an opportunity to reflect on professional history and independent research, and about the dilemmas of international research cooperation or isolation of repressive regimes. Geography, together with subjects such as history, ethnography, social anthropology and many others, has a past as an instrument of colonialism, imperialism, exploitation and the use of force.
A hundred years ago, topics such as race, skull shapes and the nature of different races and peoples were common themes in research. The post-World War II settlement started a process of change that led to the early retirement of Nazi-inspired individual scholars, but discussion about the social role of research is still taking place. This can be experienced in debates about the "decolonisation" of research, which raises questions about, for example, power, race, gender, and sexuality. Principles of international law are widely accepted but are challenged by authoritarian regimes. The 1968 student uprisings only gained partial influence in academic circles in Eastern Europe before the Iron Curtain fell.
It is also not simply so that we can just invoke ideals of independent, critical and free research. Our ideals of knowledge-based social management and development always run into dilemmas, trade-offs and uncertainties. Our choice of topic, theory, method and selection has consequences for the design of policies and administrative solutions although most of the time this may seem like "rich country problems" compared to what is happening in Ukraine.
Cooperation and exchange prevent conflicts
It was necessary to react immediately against the Russian invasion through the IGU ban. As we wrote in our letter to IGU, we cannot "be members of the same association as Putin", and we must respond to how pseudoscientific narratives are used to justify expansionist and unlawful aggression and genocidal policies.
Putin is a despot, liar and murderer on par with the warlords and despots of the 20th century, and the invasion has an unimaginable number of extremely dangerous possible domino effects on global security, the economy, the environment, energy and food security.
Over 9,000 Russian scientists took a huge personal risk by signing a protest against the war in Ukraine.
But the dilemmas are also obvious. We believe that research collaboration and student exchange can have a mutual learning effect that can lead to conflict prevention.
Collaboration creates a common understanding of problems and can create solutions to common challenges. Specifically, Norway and Russia have important research cooperation with Russia on fisheries resources and nuclear security that is of common interest and which it will be very harmful to interrupt.
We can't leave Russian scientists in the lurch
The direct research collaboration between Russian individual researchers and the outside world is another dilemma. Over 9,000 Russian scientists took a huge personal risk by signing a protest letter against the war in Ukraine. We can't just leave them to face this alone. Two-sided cooperation is the best certainty that scientific and academic activities can challenge power and corruption.
In the decision to exclude Russia from the IGU, it is emphasized that Russian individual researchers should continue to have the opportunity to continue cooperation, for example in IGU commissions. It is unclear when and how the war in Ukraine will end, and the humanitarian crisis is already acute. But even Putin and his regime have expiration dates. International research cooperation can continue when this dark chapter is over.
The ScienceNorway Researchers' zone consists of opinions, blogs and popular science pieces written by researchers and scientists from or based in Norway. Want to contribute? Send us an email!