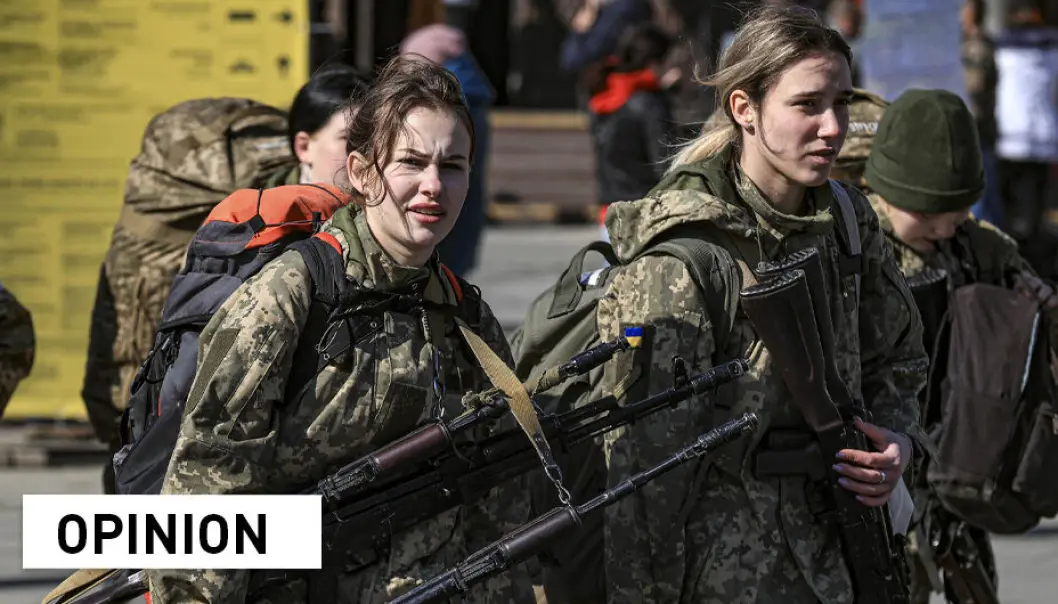 Ukrainian women engage in resistance and should be in the peace talks
OPINION: Despite both women's agency and victimization in Ukraine, they have not been included in peace talks so far. A recent survey finds that Ukrainians believe they should be.
Women are an "integral part of her country and its resistance." This was the message that Kateryna Cherepakha, President of the organisation La Strada-Ukraine, communicated to the world when speaking before the UN Security Council in April.
Her speech also highlighted increased vulnerability of women and girls to the threat of kidnapping, torture and killing. We now know that the threats to women in Ukraine also include being targets of sexual violence.
Yet, Cherepakha warned against viewing Ukrainian women as mere victims of the Russian military aggression. Focusing on women primarily as victims disguises their agency and contributions in the ongoing war. Fortifying stereotypical assumptions of women as victims only can reinforce ideas about the need for a protective culture in which women's agency and power are belittled.
Despite both women's agency and victimisation in Ukraine, women have not been visible in the peace talks.
In a recent survey in Ukraine, we asked a series of questions that let us speak to the role of women in the war. The findings from this survey allow us to draw three main conclusions:
Knowledge of cases of rape and sexual assault by the Russian troops is widespread among Ukrainians.
Ukrainian women intend to play an active role in the resistance if the war continues.
Ukrainians – both men and women – support the view that women should be included in the Ukrainian delegation in the peace talks.
Below, we elaborate on these conclusions and what they might entail.
Knowledge of sexual violence
Armed conflicts tend to target men and women in somewhat different ways due to variations in the distributions of labor, gender roles, and stereotypical assumptions and constructions.
In Ukraine, stories of sexual violence have been documented by human rights organisations and mentioned in the media. Although sexual violence can affect men, women, and children, news reports from Ukraine have so far highlighted that women are primarily targeted.
Survey evidence indicates that the vast majority of Ukrainians, about 93 per cent, have heard of rape or sexual assault by the Russian or pro-Russian forces. The awareness of such cases seems to be about equal among women and men.
Moreover, 20 per cent say that they personally know someone who has been raped or sexually assaulted by the Russian or pro-Russian troops since the invasion started on 24 February 2022.
Given that scholars of wartime sexual violence warn that the taboos and shame surrounding sexual violence often give strong concerns about underreporting, these figures are astonishingly high.
Women in resistance
Research has increasingly shown that despite dominant images of male warriors and peaceful women civilians, women have played central roles in directly aiding military struggle throughout history and in many conflicts across the world. However, they have often done so in less visible support functions, something which could limit their ability to get recognition for their services to society post-war.
Since the war in Eastern Ukraine broke out in 2014, women's direct engagement in the military operations and the armed forces has steadily increased and laws have been revised to address discrimination.
A previous survey in Ukraine, conducted in March 2022, established widespread intentions among Ukrainians to engage in the resistance against the invading forces. Although men, compared to women, appeared to be more willing to engage in military combat against the Russian forces, such willingness was also high among women.
In the first two weeks of April, a new round of the survey still finds that many women intend to engage in humanitarian assistance, support functions, and combat roles.
Specifically, 65 per cent of Ukrainian women reported intentions (by replying "extremely likely," "moderately likely," or "somewhat likely") to help the Ukrainian victims of war in terms of caring for injured civilians and soldiers.
In turn, 69 per cent of women intend to help the resistance by providing non-military support to the Ukrainian forces, such as delivering food, information, or ammunition.
Finally, the survey shows that many intend to join the Ukrainian forces in some type of combat role, either in fortified defense positions and/or in open battles. 71 per cent of men respond that they intend to join in combat roles. A substantial proportion of the women, 27 per cent, also intend to do so.
Women in peace talks
The images of female bravery and female suffering during the ongoing war are contrasted by the images of often all-male teams on both sides in the series of peace negotiations undertaken between Ukraine and Russia from February 28 and onward. Ukraine's negotiations therefore follow the pattern of most peace processes where women are mostly absent.
This occurs despite the fact that women's inclusion in peace efforts has been a key international norm of Women, Peace and Security since 2000. Negotiations could set the future for all in Ukraine, including for women's rights and security.
Women's absence in this arena does not have support in the Ukrainian population. When asked whether they think the Ukrainian delegation to peace talks should include women representatives, the most common position among the Ukrainian population is to be in favor, 43 per cent. Many are also undecided, and only 13 per cent are against including women in the talks. Women are particularly supportive of women's inclusion in the peace negotiations: 47 per cent of the women are in favor, compared to 40 per cent of the men.
Many arguments can be made for why women should be included on rights-based, moral and strategic grounds. Although we do not know what rationale Ukrainian respondents use to explain their position on this question, the resistance to including women in peace talks seems quite limited.
In asking the Ukrainian population about the role of women in the war, we have been able to document how women are integral to the resistance, as Kateryna Cherepakha has emphasised. An important next step should be to recognise women's contributions at the political level in peace talks.
About the survey
This opinion is based on data that were collected as part of a larger project that interviewed Ukrainians over two survey waves (i.e., panel surveys).
The first survey wave was conducted between 9 and 12 March 2022 and the second between 3 and 11 April 2022.
Both waves were administered online in Ukrainian and Russian by a local survey agency: Info Sapiens.
The survey agency aimed to generate a representative sample of the Ukrainian population between 18 and 55 years old, in settlements with a minimum of 50,000 residents. However, some of the Ukrainians who were beyond Ukraine's borders, or in areas of intense military combat, were not reached by the survey agency.
A total of 1,081 people were interviewed in the first survey wave, and 811 were reinterviewed in the second wave.
This text is based on the second survey wave.
This survey is likely the first to capture i.a. a population's perspectives on women's security and inclusion during an ongoing war. The statistics presented above were generated using sampling weights to represent population patterns.
The analysis and opinions in this opinion should only be attributed to the authors.
The ScienceNorway Researchers' zone consists of opinions, blogs and popular science pieces written by researchers and scientists from or based in Norway. Want to contribute? Send us an email!