Opinion: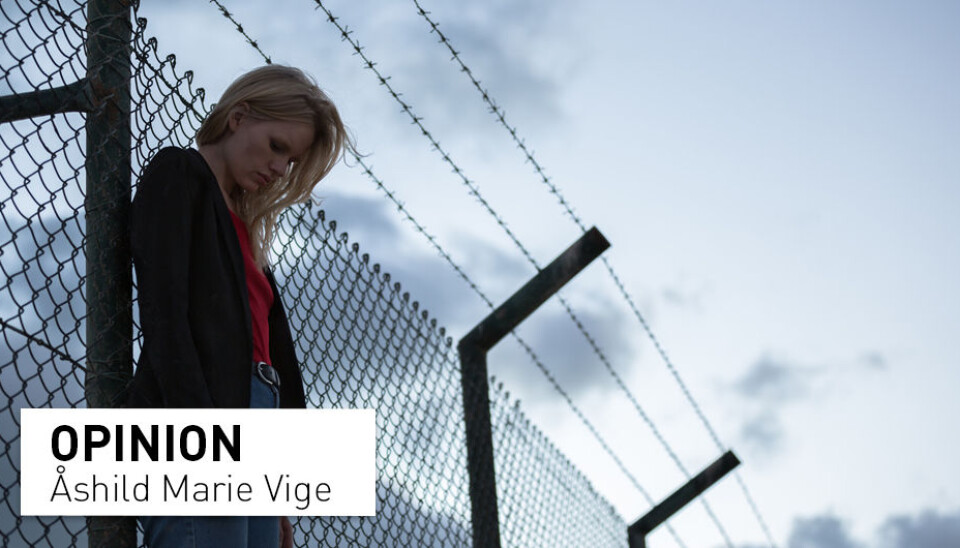 Both women and men are vulnerable in prison
The notion that incarcerated women are treated less favourably than men, and in some incidents are discriminated in prison, has been continuously repeated since a report on women's conditions in prison was published in 1989. Recent examples are reports from The Norwegian Correctional Service themselves (2015), The Parliamentary Ombudsman (2016) and The equality and anti-discrimination ombudsman (2017).
These reports emphasize the lack of equal treatment of female and male prisoners. This is one important perspective. However, one could also ask: How do women (or men) experience serving time in Norwegian prisons? Are the conditions good enough? The latter needs further clarification; what is 'good enough'?
When the authorities lock people in and keep them in their custody, they have a responsibility to ensure that basic and reasonable needs are met. Thus, it may be interesting to investigate whether the prisons comply with regulations, guidelines and strategies that are supposed to govern life in prison. JURK has used these as a basis, compared with women's accounts from serving time, to answer the question of whether women's conditions in jail are good enough.
The procedure and the research questions of Kristoffersen and JURK are thus different. Kristoffersen has investigated statistics on inclusion of men and women in prison activities and access to more lenient sentences.
JURK, on the other hand, has asked 120 questions to incarcerated women including everything from visitation arrangements, education and employment programs, experiences with isolation, health services and substances abuse programs and so on. The women were both given multiple-choice questions and the opportunity to describe in their own words. 63 per cent of the women serving time in Norwegian prisons during the spring of 2017 participated in the survey. The findings were presented in the report Women's experiences with serving time in Norwegian prisons in the spring of 2017 published last year (in Norwegian).
Although we have different approaches, JURK's findings can nuance and challenge some of Kristoffersen's findings.
How relevant is counting screws and nuts?
Women are not a minority group in the general population, but in prison, they are. Women constitute about six per cent of the prison population. Being a minority might entail being invisible or not taken into account in the larger system. The feedback from the women that participated in the JURK survey shows that their minority status has a major impact on their life behind bars and that the prisons are built on a male norm.
Kristoffersen has found that women and men are in the same degree activated with work and education during incarceration. In addition, 13 per cent of the women lacked activation, compared to 20 per cent of the men.
The question is: what does this activation entail? JURK obtained information about the educational and work programs offered in all the prisons where women were serving time. This investigation revealed major differences between the programs when comparing gender-mixed prisons to women's prisons. In women's prisons, the work assignments can be categorized as either traditional housekeeping or tedious and repetitive packing. Examples of the first category include cleaning and sewing.
An example of the latter is that the prisoners in two of the four women's prisons are employed with counting screws and nuts in plastic boxes. In one of the prisons, this is the only employment offered, the other prison has a sewing room as well. One of the women who counted screws experienced that she was given an additional punishment rather than a job.
Only 39 per cent of the women who participated in the survey experienced that there were job offers in their prisons, despite the fact that all prisons had some kind of job offer. This shows that many of the tasks the women were set to do, were not considered to be work by the women themselves.
The purpose of the Correctional Service's work strategy is to provide the prisoners with skills and qualifications to improve their chances of getting a job after imprisonment. The work should also meet the needs and capabilities of the individual prisoner. Packing screws or ventilation fans or crocheting can hardly be said to be suitable for achieving these goals.
It is quite possible that some male prisoners are also set to preform work that neither fit individual needs nor provide qualifications. However, according to JURK's investigations, the job offers in the gender-mixed prisons were far more relevant and suitable to achieve these goals compared to the jobs offered in women's prisons.
Another finding was that nearly 60 per cent of the women in JURK's survey had completed higher education. At the same time, only a few of the prisons where women are serving time offered anything other than primary school education. Consequently, the educational programs were not relevant for a large proportion of the women.
Far away from family and children
Female prisoners get more leave of absence than men do, according to Kristoffersen. One major challenge for female prisoners is that most prisons accepting women are situated in the larger Oslo region. Most of the women participating in JURK's survey were placed in prisons far away from where they live. Some spent 12 to 14 hours and thousands of Norwegian kroner on a trip home. Not surprisingly, this affected the amount of visits the women received while incarcerated.
Only one third of the incarcerated mothers had received visits from their children at all while in prison, despite only counting those having parental responsibility and/or custody for their children. 17 per cent of the women did not get visits from anyone. Some of these were longing for visits from their lawyers, prison priests or civil society organizations in the absence of other visitors.
With this situation in mind, the prisons are supposed to be more lenient in their assessment of women's leave of absence-applications. However, there are no funds to cover the often great costs of traveling home.
Conditions for men in prison no gold standard
JURK's survey shows nuances that do not appear in Kristoffersen's statistics and emphasizes the need to look behind the figures in order to reveal the reality of prisoner's daily life. The accounts from the female prisoner's has led JURK to the conclusion that women are in fact treaded less favourably in prison than men – in some areas.
Nevertheless, it must be emphasized that we do not believe men's conditions in prison to represent a 'gold standard'. Clearly, many men do not have sufficient conditions in prisons, compared to regulations, guidelines or individual needs.
The examples above shows that it is not sufficient to compare prison conditions for different groups to say whether something is good enough. Instead, we should investigate where the Correctional Service is not able to deliver on the objectives that apply to the institution, regardless of whether men or women are affected. At the same time, it is important to look at women and men's unique position when considering the fulfilment of such objectives.
We must also bear in mind that what language you speak, educational background, social class, age, disabilities, sexual orientation, having children or not and so on, are other factors that can lead to further marginalization in prison. This applies to both women and men.
The Correctional Service has experienced major cuts in their budget in recent years. This has resulted in fewer activities, less contact between prisoners and prison staff and, not at least, increased isolation – for all prisoners. This is a great concern as to whether any prisoner will receive the standard to be expected in the humanitarian welfare state we claim to be.
———
The ScienceNorway Researchers' zone consists of opinions, blogs and popular science pieces written by researchers and scientists from or based in Norway. Want to contribute? Send us an email!