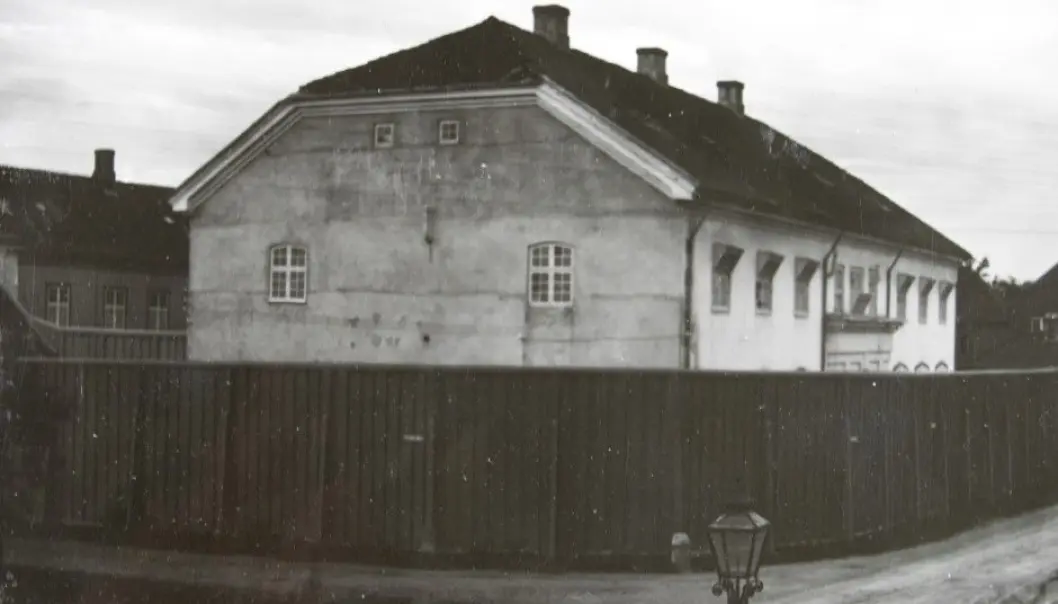 How Norwegians looked at sex offenders 100 years ago
Society's view on sex offenders wasn't merciful. And if men were unemployed and vagrants to boot, they were regarded as particularly immoral.
"Experts consider him a drunkard with degenerate character, a diminished sense of decency and delusional jealousy of a lasting nature and believe that he suffers from alcoholic jealous insanity, on which grounds he is declared insane on 28 August 1922."
This is how a patient record described a man reported for incest against his daughter in 1923.
Historian Eivind Myhre has just submitted his doctoral thesis on how male sex offenders were portrayed and treated in Norway between 1895 and 1940. He read patient record patient records for men admitted to the psychiatric institutions Reitgjerdet asylum and the Kriminalasylet in Trondheim.
Sex offenders were judged not only on what they had done. Most of them had no permanent job and had problems with alcohol. Psychiatrists also reported on the offender's lifestyle, which was seen as indecent at the time.
"They weren't seen as respectable men and didn't live up to the ideal of what a man should be and contribute in marriage and work. A decent man was responsible, a breadwinner with self-control," says Myhre.
"Weak-willed"
Patients in Trondheim's asylums were all declared insane. A large proportion were criminals, including sex offenders. Some were convicted, while others were suspected of or charged with a crime.
The records provide in-depth descriptions of the patient's childhood, previous illnesses and crime, and time while hospitalized. They also contain letters from patients and relatives.
"Volatile, unreliable and weak-willed" is a description of one man who ended up living the rest of his life in Reitgjerdet.
The patients were often described as having no character. The men were missing something important in the society of the times.
"Character appears to be linked to morality," says Myhre.
The male ideal underwent considerable change around 1900, according to other researchers. The women's movement emerged with demands for equality. New expectations arose for men. Regular routines and a stable home were important. Very few patients Myhre studied lived up to these ideals.
"Most patients didn't have work, or they were casual labourers. Often they were vagrants and not attached to a home. They travelled around and lived outside of ordinary family life," he says.
Myhre calls them the "unacceptable men", who were outsiders in society.
Work as therapy
Work thus became important in the institutions. The purpose of work therapy was to strengthen the patient and make sure that he developed a "positive character". Participation was voluntary, but it was duly noted when patients shirked work. Conscientious workers might be rewarded with a transfer to an institution with a lower security level.
"Work therapy can be understood as a moral treatment. Having clear routines in daily life was linked to accountability and decency," says Myhre.
The descriptions of patients' characters had only minimal impact on how they were medically treated, he believes.
Alcohol use, however, could be part of the diagnosis, and was connected to sexual crimes in some of the cases. Patients were described as dangerous when under the influence of alcohol.
An employee described a patient in 1925:
"To judge from the information, he attempted rape, threatened arson and was extremely brutal at home, so even his parents had to request police assistance. I know he perpetrates these outrages under the influence of alcohol, but no one can the guarantee that he won't obtain strong drink when he gets out. As long as he is here he is cut off from getting alcohol and he can be fairly good-natured and sociable."
Moral panic
Myhre writes about how sex criminals violated the male ideal of the day. But when the doctors called men weak-willed, it might not have had so much to do with gender, Margunn Bjørnholt believes. She is a researcher at the Norwegian Centre for Violence and Traumatic Stress Studies (NKVTS).
Alcoholism and lack of steady work were probably in general considered bad in society.
"We know that being a casual or travelling labourer was burdensome for both sexes. Maybe all this isn't about a view of manliness, but of humanity," Bjørnholt says.
Unmanly or inhuman?
Myhre describes how some participants in the public debate at that time thought sexual offenders were barely human at all. A moral state of panic ensued, where some activists in the women's movement described the men as animals.
Dehumanizing the sex offenders probably contributed to seeing them as more dangerous, which in turn created a groundswell for increased panic and fear in society," Myhre writes.
Nearly half of the patients who were declared dangerous were considered "idiots" or "imbeciles." In today's terms, some of them were individuals with intellectual disabilities. Others received this designation because of their social and moral qualities.
Psychiatrists believed that instinctual drives had complete power over these patients, and that they were dangerous because they failed to control their sexuality.
Asked to be castrated
During the 1900s, some sexual offenders agreed to be castrated, with some even writing letters in which they begged for the operation. They wanted to appear less threatening to society by removing what was often seen as a perverse sexual desire, and they also saw the chance to be transferred to an institution with more freedom.
"Patients were keen to show that they had changed. Castration could help prove it," says Myhre, adding, "It wasn't about becoming the ideal man, but one that could be accepted."
Psychiatrists at the institution were often reluctant to recommend castration.
Unlike some of the participants in the public debate, psychiatrists did not view sex offenders as animals, emphasizing that they were human, after all.
"The length and severity of their internment should be decided through reasonable legal norms, reasonable for the public as well as for those who are affected. They're human, too," wrote Karl Andersen, director at Reitgjerdet asylum in 1929.
"Psychiatrists didn't treat sex offenders differently from other patients. They would take care of the people no matter what they had done," says Myhre.
Relevant today
Even today, criminals are at times portrayed more like animals than human beings. A Norwegian article in VG reports that staff in the prison where terrorist Anders Behring Breivik is serving his sentence "react to the fact that Breivik – more than three years after the mass killings he perpetrated on 22 July 2011 - still gives no hint of 'humanization' in the form of showing remorse."
In the wake of a case where three men were recently acquitted of rape in Norway's Borgarting Court of Appeal, what characterizes a rapist has been hotly debated.
Bjørnholt thinks Myhre's research is relevant to talking about how we connect character and actions even today.
"A big discussion is going on as to whether rape can be compatible with being a good man," she says.
The researcher points to a Swedish study suggesting that young people see the typical rapist as sick, as someone who had problems in childhood, like a "father who beats him or a mother who drinks."
This view makes it harder to believe that rapists can also apparently be good guys, and easier to excuse them by believing that the girl actually went along with the rape. Perhaps the reverse is also true, that we cast a harder moral judgment on their actions if they live a "bad" life otherwise?
--------------------------------------
Read the Norwegian version of this article at forskning.no
Scientific links