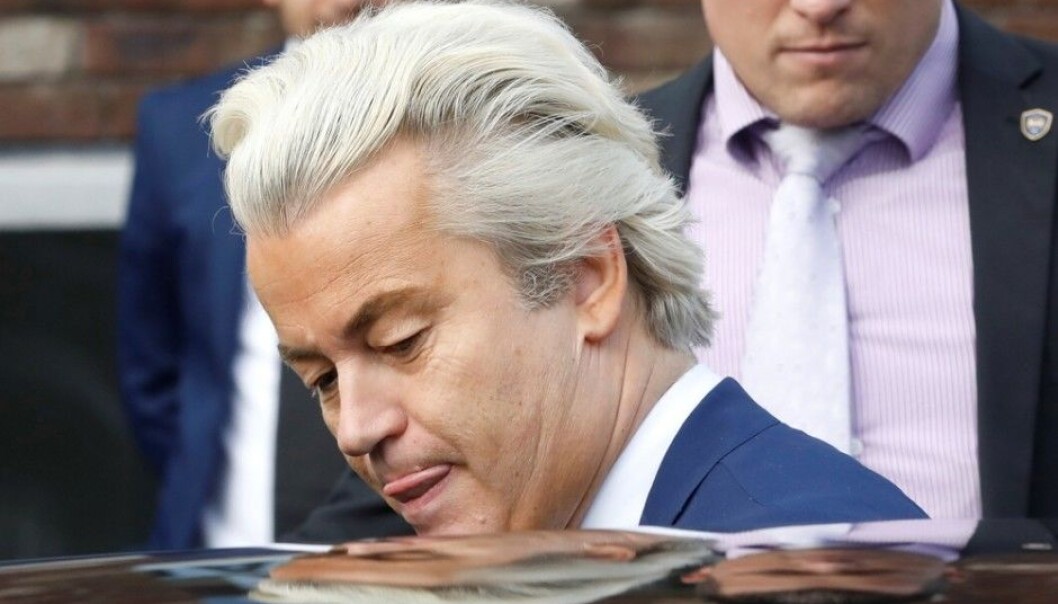 What does the rise of Geert Wilders say about politicians in Europe?
Many observers thought Holland's Geert Wilders and his Freedom Party might sweep the country's recent elections, but he did not. Yet his popularity highlights how poorly politicians have addressed political unrest across Europe.
When Dutch voters finally had their say in elections earlier this month, the current Prime Minister, Mark Rutte, won with 21.2 per cent, compared to the right wing populist Geert Wilders, who got just 13.1 per cent of the vote.
But a tweet from Wilders the following day described the election like this:

"We were the third largest party of the Netherlands. Now we are the second largest. Next time we will be number one!"
Wilders' tweet makes it clear: Populism is not likely to disappear from the Dutch landscape anytime soon.
Rutte was no saint
Yet Rutte, the current prime minister, was not exactly a saint in the recent elections, said Asle Toje, research director for the Norwegian Nobel Institute.
He says regardless of the election outcome, Wilders scored a kind of election victory.
"If anyone in the audience is cheering about Rutte's victory, I think that would be a little odd," said Toje. He was one of three panellists at a recent programme in Oslo on the topic of populism in Europe.
"(Rutte) has adopted a very hard tone that is far to the right of his People's Party for Freedom and Democracy Party," he said.
Toje believes that Wilders "won" the election in as much as Rutte adopted Wilders' immigration agenda and his rhetoric.
"Rutte is a hard man. He feels quite comfortable in his role as a vocal critic of immigration," Toje said.
A tougher tone
The public debate in the Netherlands has become much tougher. But the populist wind is also blowing in large parts of Europe.
Sylo Taraku, a political scientist and advisor at the think tank Agenda and another panellist in the Oslo programme, can confirm this observation.
He has recently visited both France and the Netherlands to better understand the populist movement.
"If you want to understand populism, you can't look for answers in capitals like London, Paris or Amsterdam. You have to go out into the countryside," he said.
Taraku met people in rural areas and small towns who had clearly been affected by the consequences of globalization. He visited cities that had once supported thriving mining or textile industries, but that have now seen those industries shut down. Many jobs have disappeared abroad. Unemployment is high, and the cities are in disrepair. Many residents have to subsist on unemployment benefits.
Could be a shot in the arm for democracy
Nevertheless, the fact that people endorse politicians like Geert Wilders and Marine Le Pen may be positive for democracy, Taraku said.
"The part of the population that has felt neglected and forgotten now has a voice and will feel as if they are better represented in the political debate. That's good," he said.
But it is problematic when these politicians divide the population into the common people and the elite, where the latter are portrayed as enemies of the people, he said.
"And this new 'we' excludes minorities, who often feel forgotten in the debate." Taraku said.
Moreover, there is little focus on the international consequences of populism, Taraku said. The protectionism that populists advocate does not help solve problems such as terrorism and migration.
"In this case, you need a stronger EU, not a more divided political landscape," Taraku said.
Toje reminded the audience that the EU cannot be considered to be very democratic.
"The only way we can build a stronger European Union now is by ignoring the popular will. Is this the right time to start this discussion?" he asked.
Poor political leadership
Toje said that we should be careful not to draw too many parallels between populism in different countries in Europe.
"Politics is always local and the Dutch political debate is quite different from the French and British debate," he said. "Geert Wilders could have only emerged in the Netherlands, where the debate has been quite harsh."
He said, however, that Wilders' ascent is clear evidence that European leaders have let voters down.
"Geert Wilders is a symbol of how bad political leaders in Europe have been. When he emerges as a charismatic and credible politician what does that say about the others?" he said.
-------------------------------------
Read the Norwegian version of this article at forskning.no
Related content