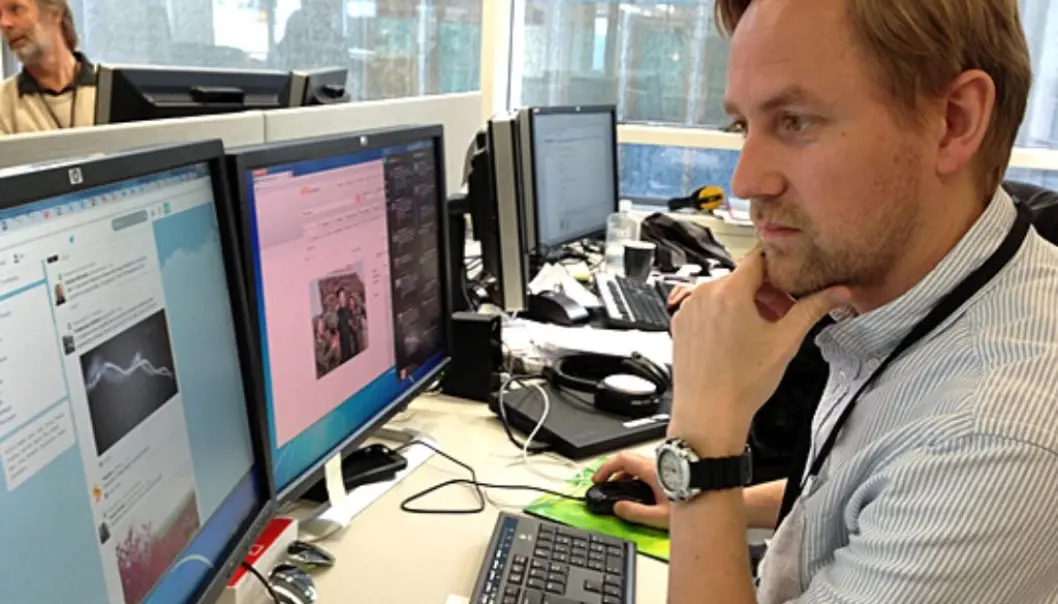 Can we trust news on Twitter?
Journalists use social media as a news source, but as they race to meet short deadlines it is not always easy to check and confirm the facts.
"If 30 persons post the same picture on Twitter of an aircraft that has crashed abroad, it's hard to know who has taken the photo and thus know what really happened," says Rune Thomas Ege, a journalist on the international news desk at the Norwegian tabloid daily, VG.
He uses Twitter daily to monitor what is happening round the world. He is prompted on a screen whenever any of the thousand or so users he follows tweets a message on the social network site.
But it is not easy to ascertain the validity of such information. The internet is flooded with info, rumours and deceptive photos. There are also plenty of spin doctors out there trying to slant issues in certain ways.
Social media contribute to making the whole world aware of situations as they happen.
Challenging to check the facts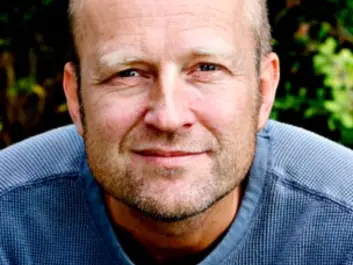 Some nine out of ten Norwegian journalists use social media to gather information and two out of ten do so very much, according to a study in 2012 among members of the Norwegian Union of Journalists.
Some journalists find it challenging to check the facts sufficiently when the flood of information is overwhelming and they are under pressure to be the first to break a story. This has been seen in a fresh study from the large independent Norwegian research agency SINTEF, carried out in collaboration with the German broadcasting organisation Deutsche Welle.
"The quality of fact-checking varies immensely. You can face a dilemma between publishing fast and checking to see if something is true," says Senior Researcher at SINTEF, Petter Bae Brandtzæg.
Crossing fingers
Editors and journalists don't enjoy seeing their competitors beat them to a good story.
"Priority is on producing results as quickly as possible and then you just hope for the best," says one of the journalists in the European study.
The researchers interviewed 24 journalists in Norway, Denmark Germany, England and France.
In these interviews the journalists related how they try to check the facts.
"Rumours spread like wildfire on social media. There is a big chance of being deceived. This should make it all the more important for journalists to verify the information," asserts Brandtzæg.
Eye witnesses on the web
VG journalist Ege stresses that information sourced from social media should always be double-checked, just as the paper does if someone calls its hotline for news tips or issues a press release.
He doesn't think it any harder to assess the content from the new media. On the contrary, it makes it easier to get the facts right. Whereas journalists used to be often reliant on information wired by news bureaus, Ege can now link up with many different sources, including the general public.
With Twitter and Facebook as tools, journalists now have direct contact with eye witnesses who are on the spot where the news is.
"Putting it to extremes, you can say if we aren't there ourselves, we can just as easily report a bomb exploding in Afghanistan as a fire somewhere in Norway. The sources have never been so readily accessible as now," says Ege.
Fake videos
Nevertheless, we are constantly being fooled.
In February a photo of a little boy in the desert popped up on Twitter. It was said that he had crossed the desert alone from Syria to Jordan. But it turned out the boy had just become separated from his family a short while and he was together with other refugees the whole time.
Bogus videos recently circulated on Facebook which claimed to be the Malaysian Airlines flight MH370 that disappeared mysteriously on its flight between Kuala Lumpur and Beijing in March.
How can such falsehoods be avoided?
The SINTEF study shows that journalists have a number of strategies for ascertaining the validity of information.
They contact eye witnesses and follow other sources which they deem reliable. These can be other media or persons they have followed a long time on social media.
The journalists often put more trust in the established media, even though there are plenty of examples of newspapers being duped.
Publishing unfinished stories
Traditional journalistic methods are still in use, such as calling the police for information about accidents.
Another strategy is to release a story but cushion it with certain reservations. Ege does this sometimes in the newspaper VG.
He thinks journalists should strive to keep their cool and wait until they have checked the facts thoroughly. Nevertheless, when big stories break, the VG journalist has to publish it before getting all the information, updating and revising the story as more facts are secured.
"If we think the source is solid and credible enough to use as a single source, we make sure that we write who provided the information, right up in the headline," he says.
Does this relieve the journalist of responsibility for the content?
"Of course not. It makes it clear where the information is coming from so that readers can make their own evaluations. But it is always the editorial staff that shoulders the final responsibility," says Ege.
------------
Read the Norwegian version of this article at forskning.no
Translated by: Glenn Ostling
External links
Related content