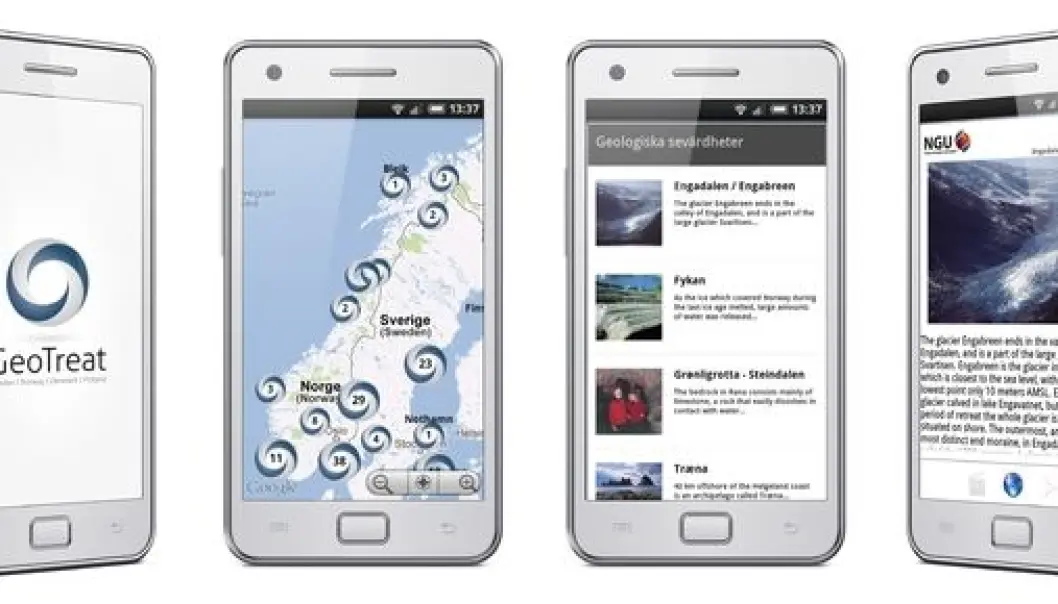 On the road with a geology app
"Are we there yet?" The road trip is wearing out the family. How about downloading the app GeoTreat and learning about our country's oldest history?
Norway is a country of ancient mountains, extinct volcanos, long-gone seas and more recently, melted glaciers.
Why not become better acquainted with the country and its oldest prehistory while rolling through the landscape?
Scientists at the Geological Survey of Norway (NGU) have devised the application GeoTreat. The idea is that you can download the app, find the spot are you are in and learn about its geological history as you drive.
If you're driving toward Karmøy, for instance, you can read about the Visnes copper mines. In 1880 this was the country's largest workplace, with 3,000 employees. The mine is best known for supplying the copper used by the French to make the Statue of Liberty in New York.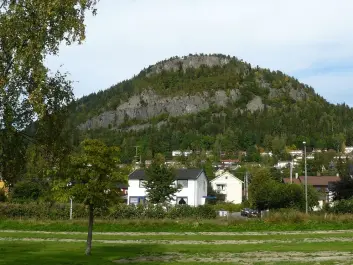 Or maybe you are in Bærum, an upscale suburb on the west side of Oslo. That peaceful, rolling landscape was dominated by fiery volcanoes for millions of years, according to GeoTreat.
Bærum's towering landmark Kolsåstoppen is the result of a volcano that spewed rivers of lava, which spread over the greater Oslo area. On top of Kolsås are the remains of two of these lava flows.
Orogeny
We might be well acquainted with Norwegian tourist magnets: Prekestolen, Jostedalsbreen and Hardangervidda. But do we know what made them?
After enjoying the views you can use GeoTreat to find out how the Hardanger Plain came about. It started with the formation, or orogeny, of the Caledonian mountain chain about 400 million years ago. The Appalachians in the US were then part of the same chain, as are parts of Svalbard. The continents drifted apart and seas have encroached. Deposits, weathering and glaciation have done their work. The current result is Norway's largest national park.
A lesser known site is the soccer field at Slemmestad, on the fjord about a half-hour's drive from Oslo. Geologists found a new treasure trove of fossils there in 2010 – a big field of prehistoric squids.
How did squids end up here? GeoTreat explains:
Slemmestad as it was 440 million years ago would not have been a likely spot for kicking balls. The sea was higher and there was no Oslo Fjord. Moreover, Slemmestad was then south of the equator and had a warm and humid climate.
Plants and animals living in this tropical sea died and fell to the seabed. These accumulated and formed a thick layer of limestone. This forms the rocky outcrops around the soccer pitch today.
Hoping to inspire geo-tourism
NGU researcher Rolv Dahl is one of the creators of the GeoTreat app.
The app now only displays about a hundred geological landmarks. Dahl says the goal is to raise this to over a thousand spots in Norway. He'd like it to inspire geo-tourism.
"We have plenty of focus on nature, on the environment and biological diversity. I'd like to stimulate more interest in geology," says Dahl. "We should understand our landscape, also far back in time."
GeoTreat is a Nordic collaborative effort and can be used to find some 100 geological hotspots in Sweden and Denmark and 19 so far in Finland. Iceland, where geological forces are so notoriously in action, isn't covered yet.
---------------------------------
Read the Norwegain version of this article at forskning.no
Translated by: Glenn Ostling
External links
Related content