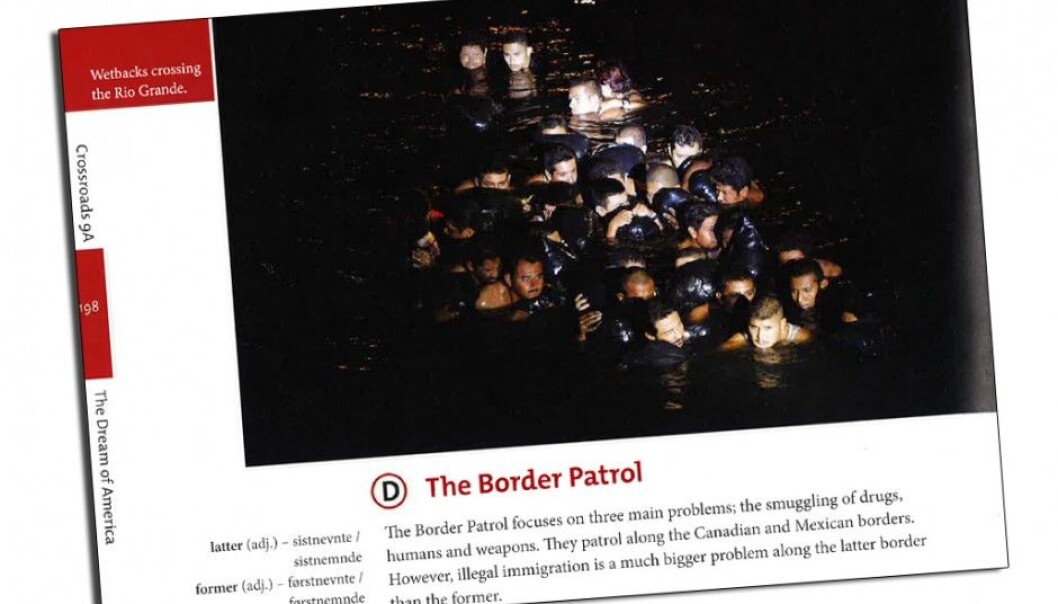 Norwegian textbook calls Mexicans "wetbacks"
Mexicans and indigenous people get short shrift in four English-language textbooks for Norwegian ninth graders.
More than half of all indigenous people depicted in four English textbooks for ninth graders are shown in ways that have no connection to modern life.
Master's student Cecilie Waallann Brown from the University of Stavanger examined the use of pictures in these four textbooks to make this finding.
Brown and her supervisor Jena Lee Habegger-Conti also strongly criticized one of the textbooks in a separate blog post for using the word "wetbacks" to describe Mexicans.
"A large proportion of indigenous people are shown in traditional clothes and settings, and are twice as likely as 'white' people to be depicted in a wide-angle photograph," says Brown.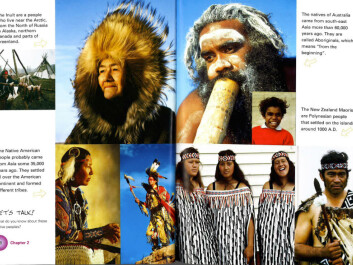 A wide-angle photograph makes the people in them seem farther away from the people looking at the image, Brown said, which makes it harder to identify with the people who are depicted. She does not believe that it is wrong in and of itself to feature pictures of indigenous people in traditional clothing, but was surprised that it dominated so strongly in the books she examined.
Indigenous people were photographed in traditional clothing in 62.7 per cent of the photographs Brown reviewed.
"When traditional clothing dominates in images like this, it strongly influences how students think about indigenous people," Brown said.
Most prominent in this regard is the Cappelen Damm textbook New Flight, where 90 per cent of all photos of indigenous people show them wearing traditional clothing.
Forced to be people from the past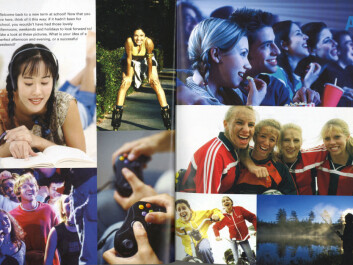 Brown's supervisor, Habegger-Conti, does not believe that it is wrong for textbooks to describe traditions and cultures, but believes that it has been so strongly emphasized that the authors forget to show readers that indigenous people live in today's world, too.
"The stereotype that is presented of indigenous populations is that they are a people of the past. The photographs make it seem as if they're not living in today's world," says Habegger-Conti.
Mexican "wetbacks"
In Crossroads, a textbook published by Fagbokforlaget, Mexicans who try to make it to the United States are called "wetbacks," both in the book's captions and in the main text. "Wetback" is a derogatory term for Mexican immigrants who have entered the US illegally.
"I was shocked, this book was revised in 2014. This is one of the worst I've seen," Habegger-Conti said.
It was her son who made her aware of the use of the word. Habegger-Conti and her family are from the US, but her son was unable to make his school understand that wetback was a racist and derogatory word.
"He went to school and said we don't use this word, but the teacher said 'Yes, you do, because it says so in the textbook'," she said. "It shows how much authority these textbooks have."
"There will be changes in this text," says Trond Petter Hinrichsen, publishing director for Fagbokforlaget Undervisning, adding that the publishing house takes the researchers' observations seriously.
Hinrichsen also says that Habegger-Conti is the first person to make them aware of the word and how it was used in the textbook.
Just one out of four presents modern images
Only one of the four books Brown examined for her master's thesis shows indigenous people in modern clothes more often than in traditional clothing. This book is called New English, and is published by Aschehoug Undervisning.
"This is not by chance. We have our own image editors who work consciously with our choice of photographs. We are committed to avoiding reinforcing stereotypes—we would rather challenge them," says Hege Jahr Glomnes, sales and communication manager at Aschehoug Undervisning.
All of the other publishers whose books were examined by Brown have also said they take her findings seriously.
As an example, Publishing Director Espen Skovdahl for Cappelen Damm Undervisning wrote in an email that the editors for his company will review the use of photographs in their textbooks, "and consider how the images support the syllabus and curriculum. Our mission is to introduce the material in a balanced manner in accordance with current curricula, and we will make sure that this is safeguarded in the best way in future revisions and new textbooks."
Hinrichsen from Fagbokforlaget Undervisning said that with respect to the depictions of indigenous people, publishers need to be more aware of stereotypes and avoiding them.
"We've been through a similar kind of awareness-raising previously, such as with gender issues. It's about being more aware of our own mindsets and how things are presented to students," Hinrichsen said.
------------------------------------------------
Read the Norwegian version of this article at forskning.no
External links
Related content