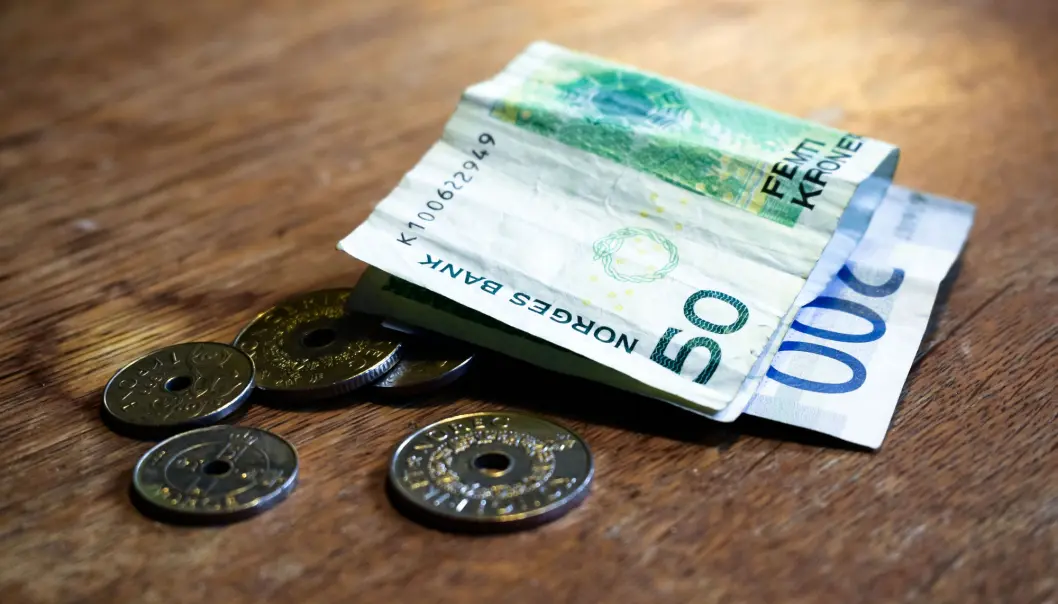 Slightly more poor people in Norway
Norway's proportion of low-income families and households is growing year by year.
A larger percentage of Norwegian residents (excluding students) could be classified as low income in 2017 compared to previous years, a new report from Statistics Norway shows.
Approximately 11.2 per cent of people in Norway had low incomes in 2017 compared to 10.8 per cent in 2014 and 9.6 per cent in 2011.
People with low incomes tend to be people who are outside the labour market, according to other Statistics Norway figures. They are often social welfare recipients.
Fewer poor pensioners
A declining number of low-income individuals are old-age pensioners, the 2017 numbers show.
A total of 17.5 per cent of all old-age pensioners belonged to the low-income group in 2008. This dropped to 9.3 per cent in 2017.
Among all people receiving disability benefits, 12 per cent belonged to the low-income group in 2017.
In comparison, nearly 58 per cent of social welfare recipients had low incomes.
Housing costs is a big challenge
Forty per cent of immigrants from Africa and Asia living in Norway had low incomes in 2017, as defined by the EU.
For refugees in Norway, this percentage is as high as 47 per cent.
Another group that includes many people with low incomes is the long-term unemployed.
All these groups, according to Statistics Norway, experience specific financial problems related to housing. Many people spend a very high proportion of their low income on rent or housing debt.
Low income for many years
Quite a few people may have financial problems for short periods. For this reason, Statistics Norway also calculates how many people have low incomes over a longer period, in this case, at least three years.
This proportion had remained stable for many years at around 8 per cent of the Norwegian population.
In the three-year period 2015-2017, however, it reached 9.6 per cent of the population.
Poor families with children in Norway
In the Nordic countries, only Sweden has a higher proportion of children living in low-income families than Norway. In Sweden, the proportion of children living in families with low incomes is 9 per cent, in Norway it is 8 per cent.
In comparison, the share of children in low-income families is only 3.6 per cent in Finland and 3.7 per cent in Denmark.
Statistics Norway researchers say they are not aware of any recent research to explain this big difference. But one possible explanation may be that Denmark provides a much higher level of support to families with children than Norway. Families with children in Finland have also kept pace with the general increase in prosperity in society.
Another explanation may be that more immigrants have come to Sweden and Norway.
EU measurement method used
To calculate these percentages, Statistics Norway used the EU's most common method of measurement for low income, what some would call "poverty". This measure describes a person as having a low income if they have less than 60 per cent of the median income (the middle income for all people) in the country. This is a relative measurement, in which people are measured in comparison to others.
In a rich country like Norway, this means that compared to the inhabitants of less wealthy countries, a person can have a pretty decent life and still end up in the low-income group.
Another low-income target measurement says a person has to have less than 50 percent of the median income to be in the "poor" group.
What about capital?
The previous figures describe annual income. Another measurement to consider when comparing financial living situations is capital.
After all, a low-income family can have relatively high capital. And someone who earns reasonably well can have little or no capital.
When Statistics Norway looked at income and capital, they weren't surprised to find that it is often the same people who have both low income and little capital.
The median amount of capital for people in Norway who were below the EU's low-income limit was only NOK 28,000, or about EUR 2750 in 2017.
By comparison, old-age pensioners who fall into the low-income group had a median capital amount of NOK 1.5 million, or about EUR 148 000 in the same year. This is due in part to the fact that many low-income seniors own their own housing.
Poor families with children in Europe
Many EU countries —especially in southern and eastern Europe —are at high risk of their citizens ending up in poverty. EU statistics also show that families with children are more at risk of being poor than other families.
The largest incidence of people with low-incomes is found in Romania, Bulgaria and Serbia, where approximately every fourth inhabitant is in the low income category.
The countries with the lowest share of low-income residents are Iceland, the Czech Republic, Finland, Norway, Denmark and Slovakia.
Access to material goods
Another indicator the EU uses to measure poverty is to look at how many people in a country lack access to material goods that are associated with a reasonable standard of living. This measure is called the Severe Material Deprivation indicator (SMD).
The EU considers you to belong to this group if you are aren't able to afford at least four of these nine items:
To pay rent / mortgage or electricity / municipal expenses on time
Keep your home warm enough
Be able to meet unexpected expenses
Eat meat or fish every other day
Take a week's vacation away from home
Own a private car
Own a washing machine
Own a colour TV
Own a mobile phone
In 2017, 2.3 per cent of all Norwegian residents belonged to this group. Sweden had the fewest percentage of residents in all of Europe with limited access to material goods, only 1.1 per cent.
In Europe overall, 7 per cent of the population lack access to at least four of these goods.
The countries with the highest percentages of residents who fell under the SMD indicator were Bulgaria with 30 per cent, Northern Macedonia with 31 per cent and Greece with 21 per cent.
Reference:
Elisabeth Løyland Omholt (ed.): "Økonomi og levekår for lavinntektsgrupper 2019" (Economics and living conditions for low-income groups 2019) Statistics Norway Report 2019/33. Report. (in Norwegian with English abstract)
———