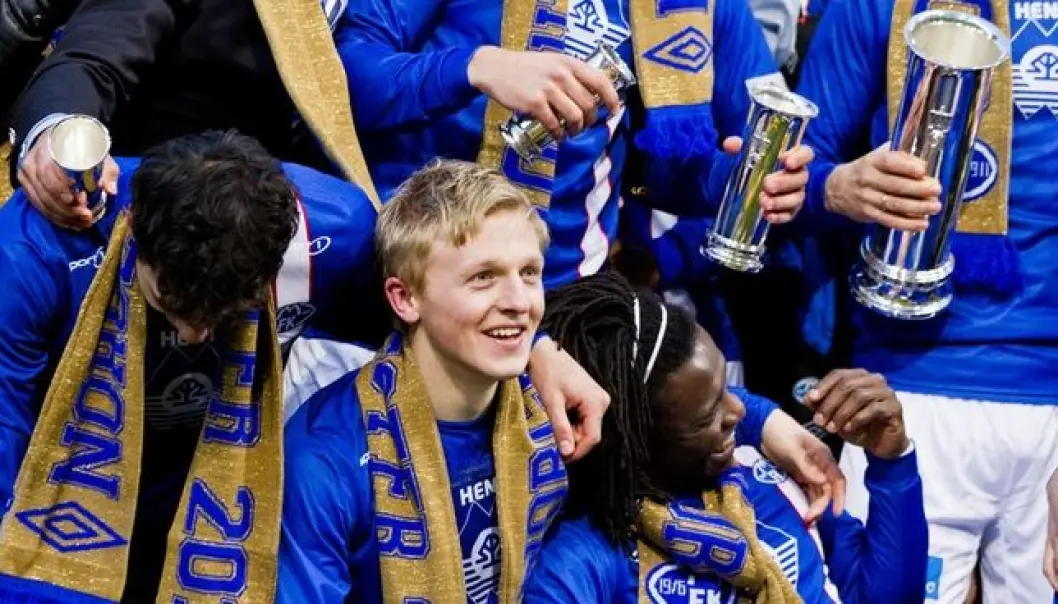 Football clubs generate jobs
A successful soccer team is advantageous for regional employment statistics.
Molde Fotballklubb (MFK) is the city of Molde's greatest brand name asset, according to Molde University College and the research institute Møreforskning in a recent memorandum.
No need to be a soccer fan to concur. Molde residents who don't give a hoot about the sport or the home team can still bask in its success.
NOK 165 million to the region
Researchers have analysed the club's impact on the Molde region.
"The club has contributed a net capital input to the Molde region of NOK 165 million [$27 million]," says Rector Hallgeir Gammelsæter of the Molde University College.This added prosperity poured into the area in the course of a five-year period, 2008-2012.
Job creation
Plenty of jobs are generated by professional sports, directly and indirectly. MFK directly represents about 60 man-labour-years. The club also engenders another 50-60 jobs in its wake – mainly merchants and service providers.
The soccer club also attracts thousands of hours a year in voluntary work. In 2012 volunteers put in more than 59,000 hours of work, efforts worth the equivalent of well over $2 million.
Doubled turnover
MFK has doubled its turnover in the course of the last five years, from $12 million to $24 million. It took the gold in Norway's top league, Tippeligaen, in the last two years of the period, 2011 and 2012.
Club employees paid $3.75 million in income tax to the City of Molde and $810,000 to Møre og Romsdal County in the same five-year period.
"Most of this income tax is from taxpayers who are professional footballers and who would not have contributed any tax to Molde if there were no top team in the city," write the researchers.
Fans would willing to pay extra tax
Self-proclaimed MFK supporters have strong ties to the club. The ones surveyed here had bought tickets to MFK games and registered their e-mail addresses in that connection.
Surprisingly, many say they would be willing to pay higher taxes if that were necessary to save the club. In a hypothetical situation where the rich investors withdrew their support and local municipalities were willing to take over to keep MFK from going bottoms up, seven out of ten of these fans say they would shoulder a higher tax burden to save the team.
Closed and arrogant
Nevertheless, supporters all give voice to critical comments: Some leaders and players have demonstrated arrogance with regard to the "civic" life in the city, the club is perceived as "closed", and the team has removed itself from its grassroots supporters, according to some fans.
MFK supporters also point out another downside – a top club can easily displace other, smaller clubs in the vicinity.
-------------
Read the Norwegian version of this article at forskning.no
Translated by: Glenn Ostling
External links
Related content