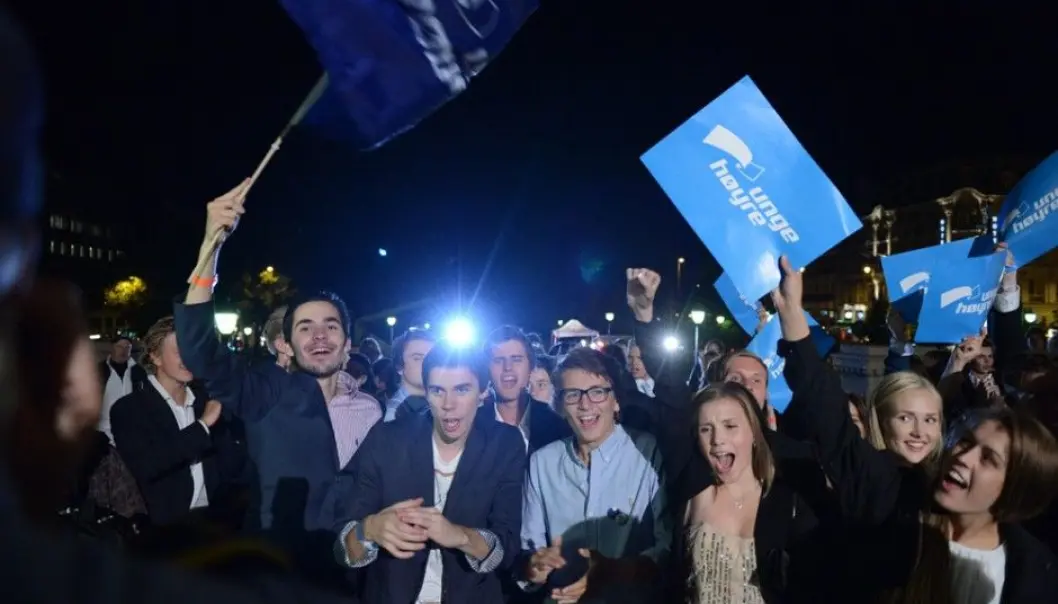 Youth grow more politically active – but vote like mum and dad
Teenagers and young adults are starting to get involved in politics again. But they aren't radical like they were in the 1960s.
Following the bombing and shooting spree in Norway by a lone ultra-conservative terrorist on 22 July, 2011, the then Prime Minister Jens Stoltenberg encouraged Norwegians to become all the more involved in democracy.
In his speech at a packed square of mourners and demonstrators outside the Oslo City Hall, the PM appealed to the young:
"Commit yourselves. Care. Join organisations. Participate in debates. Use your right to vote. Free elections are the jewel in the crown of democracy. By participating you voice a resounding 'yes' to democracy."
To start with it looked like young people were doing just as Stoltenberg had asked. In the subsequent county and municipal elections in September 2011 voter participation among young people rose by 11 percentage points.
"We have every reason to be optimistic on behalf of young people today, as compared to the situation a few years ago."
Johannes Bergh, election researcher
But was this just a spike in involvement just weeks after the atrocious act of terror?
"The big question was whether participation would slump back to normal in the Storting election in 2013," says election researcher Johannes Bergh of the Norwegian Institute for Social Research. He is currently writing a book about that parliamentary election in 2013.
Permanent change
It didn't.
"There was a clear increase in election participation among first-time and second-time voters in 2013. And we see this same tendency with increased membership in the political parties' youth organisations – across the political board."
"I think this trend is something fairly permanent," says Bergh.
If so, it represents a turning point after a long period of mounting political apathy among young people.
"Participation amongst young people in politics slid steadily ever since its peak during the youth and student revolts of the 1960s and '70s."
Bergh considers a well-functioning democracy in the future to be contingent on young people's return to politics.
"We have every reason to be optimistic on behalf of young people today, as compared to the situation a few years ago," he says.
However, apart from rising participation in elections, the involved young people today are no carbon copies of their counterparts in the 1960s and '70s.
In parents' footsteps
The baby boomers, known because of the watershed year 1968 as "the sixty-eighters", set something of a standard for politically involved young people: They leaned strongly to the left.
This youthful radicalism held sway for years even though young voter participation rates slumped. The young people who continued to concern themselves with politics tended to lean to the far left, or the far right.
Today's young and politically active Norwegians don't fit that pattern.
"The young are now very conventional in their politics. They vote pretty much as their parents do and show no more tendencies toward radicalism than the general population," says Bergh.
He is uncertain why this contrast has occurred between contemporary young people and their parents or grandparents when they were young, but offers an explanation:
"People who conduct research on young people have shown that today's young have a different relationship with their parents than was common before. The generation gap between adults and children is no longer so wide and maybe that also goes for the need to rebel. Or maybe they now rebel in other ways?"
"Today's young people also face stronger pressure to make it on their own and get good grades and solid jobs. So they have to be quite serious and that can make them more conventional. Participation in a rebellion might not be such a viable strategy for landing a future job."
Status quo
It can take time to get used to the new image of politically active youth. For instance, many have thought that lowering the voting age to 16 would bolster parties on the fringes. So far, nothing verifies that.
"I think we can expect a status quo situation. The established political regime and existing solutions have their advantages," says the election expert.
One problem to be considered is that young people who are conventional will tend to be less innovative in seeking solutions to developing political problems. But pinpointing the way young people will be orienting themselves politically in years to come is no easy task.
It used to be typical for the young radicals to drift toward the middle of the political road as time passed. But who knows what will happen with this new generation of more conventional teenagers and young adults?
"Maybe they will grow more radical in time?" suggests Bergh.
-----------------------------------------
Read the Norwegian version of this article at forskning.no
Translated by: Glenn Ostling
External links
Related content