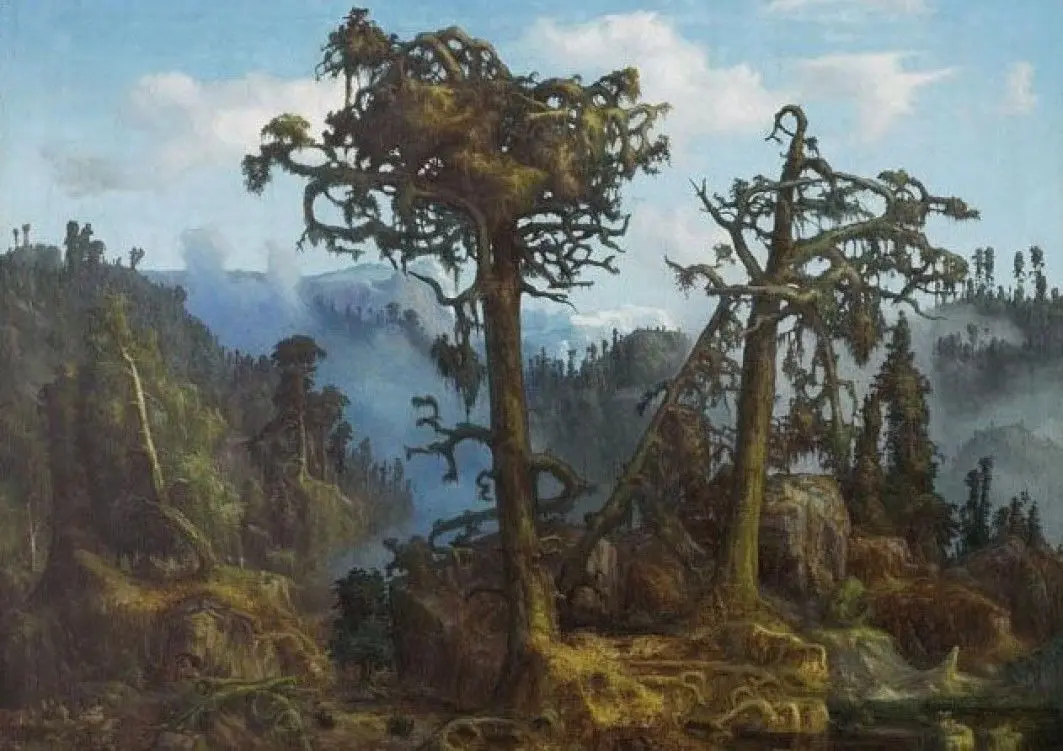 Do we still remember what the forest really looks like?
Is there primeval forest in Norway, and what does an old forest actually look like?
Many people have a relationship with the forest.
Maybe you built a shelter from pine branches when you were little, picked spring flowers, stuck sticks in an anthill in the fall or studied bird life in the summer.
Or maybe the forest is somewhere you go for a walk in for the sake of body and mind.
Most likely, any time you have spent in a forest is in a place that has been strongly influenced by humans, for hundreds of years.
The untouched forest, the primeval forest, looks different.
In legends and fairy tales, the forest hides mysteries and supernatural beings. This magical atmosphere is often expressed in the Norwegian artist Theodor Kittelsen's paintings. The mystery of the forest has even been a source of inspiration for Norwegian black metal.
But is there really untamed and untouched forest in Norway today, or what we could call primeval forest?
Hunting the primeval forest
"We are in the process of forgetting what forests actually look like," Mikkel Soya Bølstad said to sciencenorway.no.
He is a biologist and journalist who published a book last year about his hunt for the Norwegian primeval forest.
Bølstad's book tells stories about experiencing hidden natural gems. The book is first and foremost a tribute to the forest, but it also has a serious side. Bølstad is worried that we are in the process of losing unique forest areas.
Bølstad and his family have travelled far and wide across Norway. And there are places where the forest looks far different than what many of us are used to.
He took us to one of Norway's oldest forests, to Skotjernfjell, about 60 km due north of Oslo, to see what the Norwegian forest once looked like.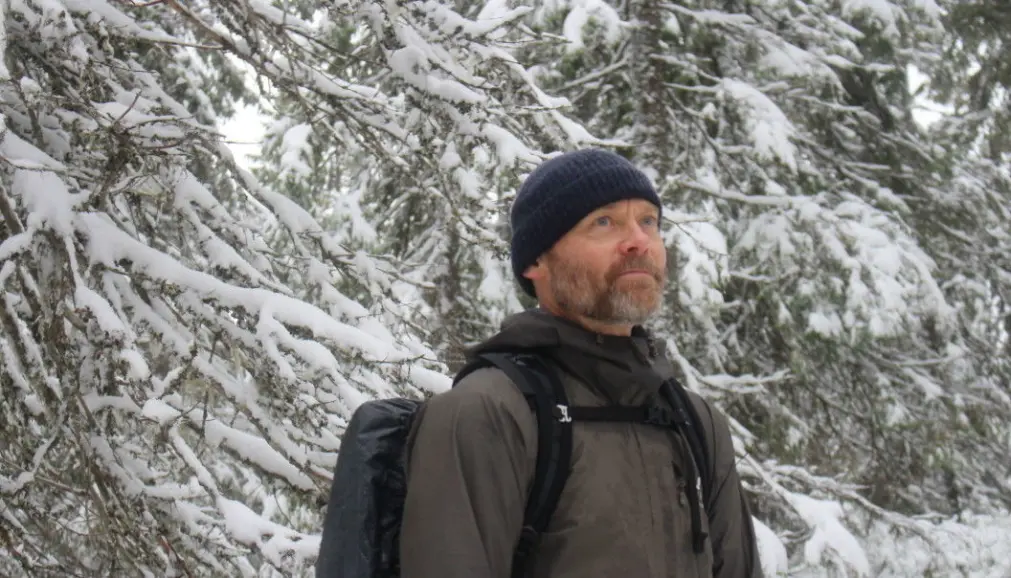 Tall and dark
On the way up to the old, primeval forest near Skotjernfjell, we walk with Bølstad up a forest road shaded by a dense, dark coniferous forest.
The spruce trees tower over the sky — most are the same diameter and height.
Why does it look like this? The answer is simple. This forest has been planted by humans.
"This is the forest people grow up with today," Bølstad says.
He described how young people on Instagram tag this type of forest as primeval forest.
"If there is only a little moss on the ground, they think it is old — that it is old-growth forest. That's so sad. In their eyes, the forest certainly looks nice. But it's probably because they have not seen what a forest really looks like, a real, magic forest," he says.
The forest we pass through on the way to Skotjernfjell is a planted forest. It looks pretty magical, but mostly because the trees are so big and towering.
We walk for about an hour in this forest before we approach the real old forest.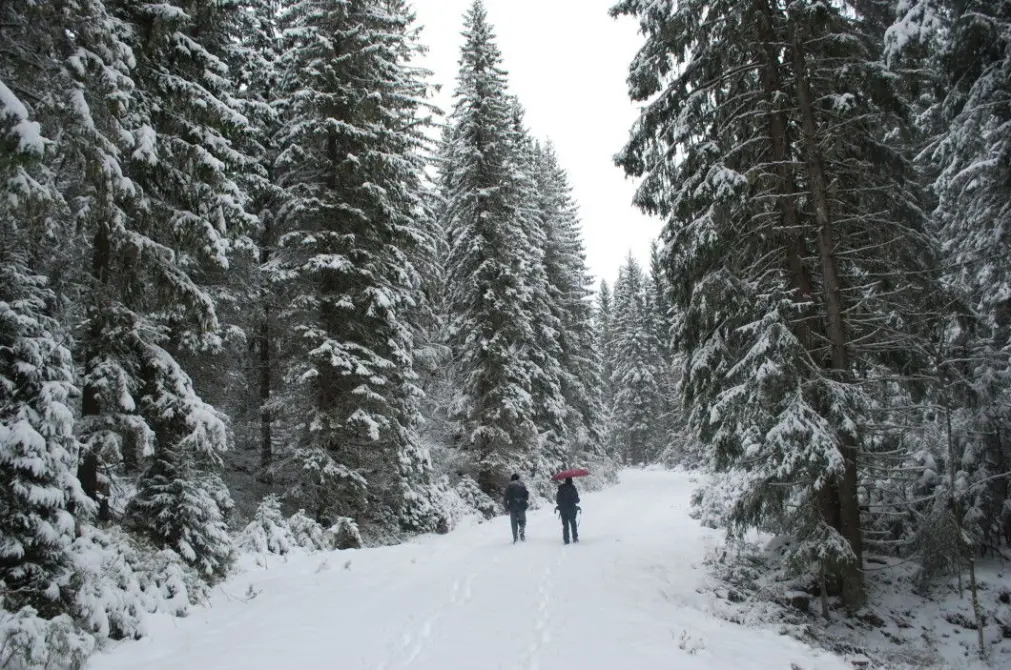 Diversity in every way
"It's starting to look a bit like an old forest," says Bølstad.
We have now left the forest road and Bølstad shows us the way into the forest.
The first tree he remarks on is a pine that is quite different from the surrounding trees.
"Here we see that as the tree gets older, it stops growing in height and begins to grow in diameter. Because it has probably approached its maximum height, we see that the branches have begun to get thicker," he said.
The tree ends in a broad crown, with branches that are thick and crooked.
A big old trunk lies on the ground a little further away.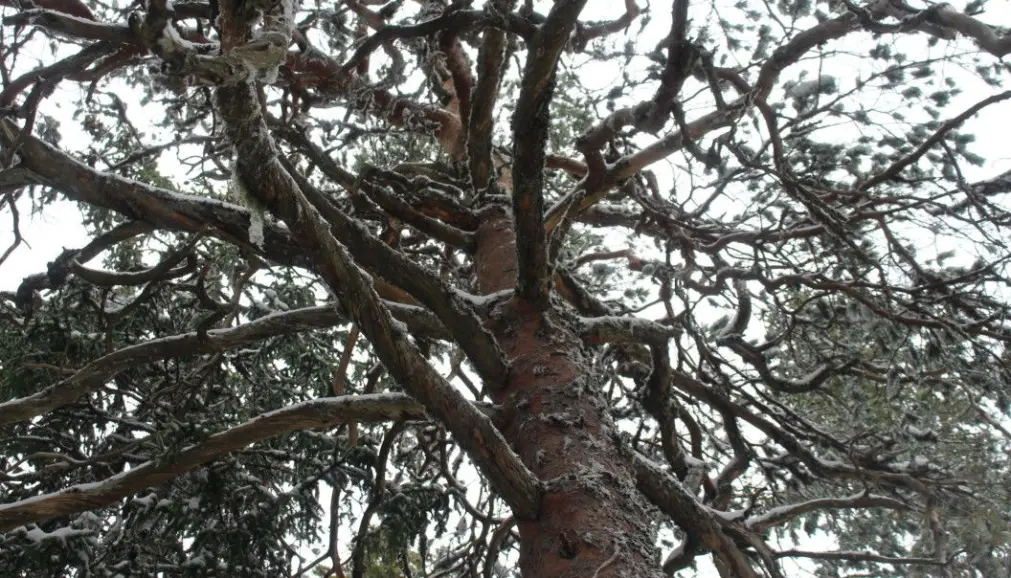 This forest is about to change.
"Look here, this is why I am so fond of old-growth forest," says Bølstad.
"This is a forest that has probably been logged in the past. It is open to the light. Even if it gets old, it will never be as dense as a spruce plantation. Big trees will eventually tumble to the ground," he said.
The darkness from the spruce forest is slowly but surely disappearing. The trees grow lower, and the sky narrows between them. It suddenly becomes easier to walk.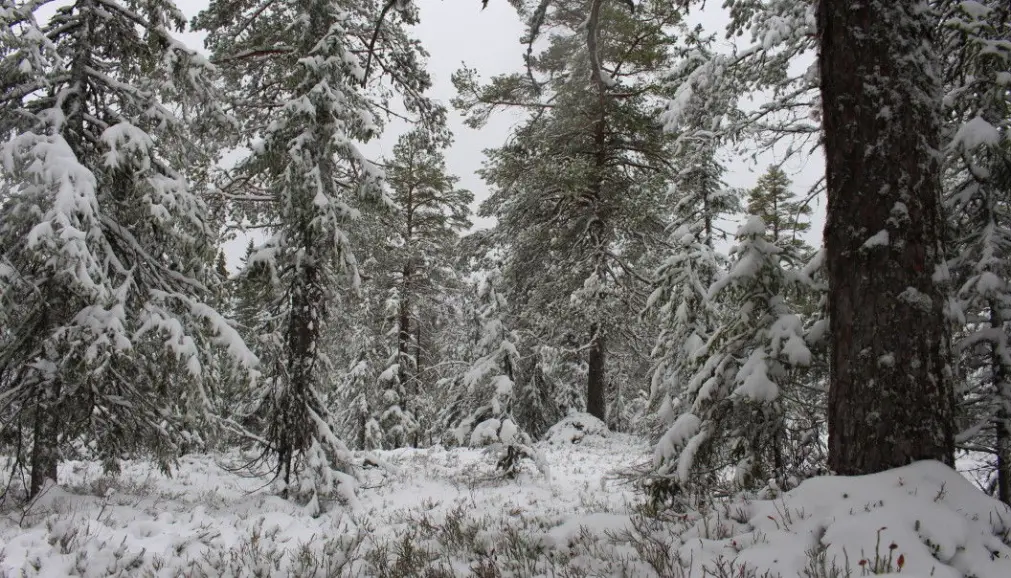 "Here's one that has started to die," he said.
Bølstad stops and looks up at the top of a tree with lots of dry and dead branches at the top. But it is still upright.
"Maybe it will stand here for another hundred years. At some point, it will fall on the ground. Then it will calmly and quietly rot," he said.
Bølstad says that trees in the industrial forest are all same, each one is just as tall, broad and just as old as all the others.
"In contrast, the old-growth forest has lots of diversity, in shapes and stages of decay, which means there are lots of niches and habitats for different species," he says.
"Now we're just two hundred metres from the location of one of Norway's most protected forest areas," he says.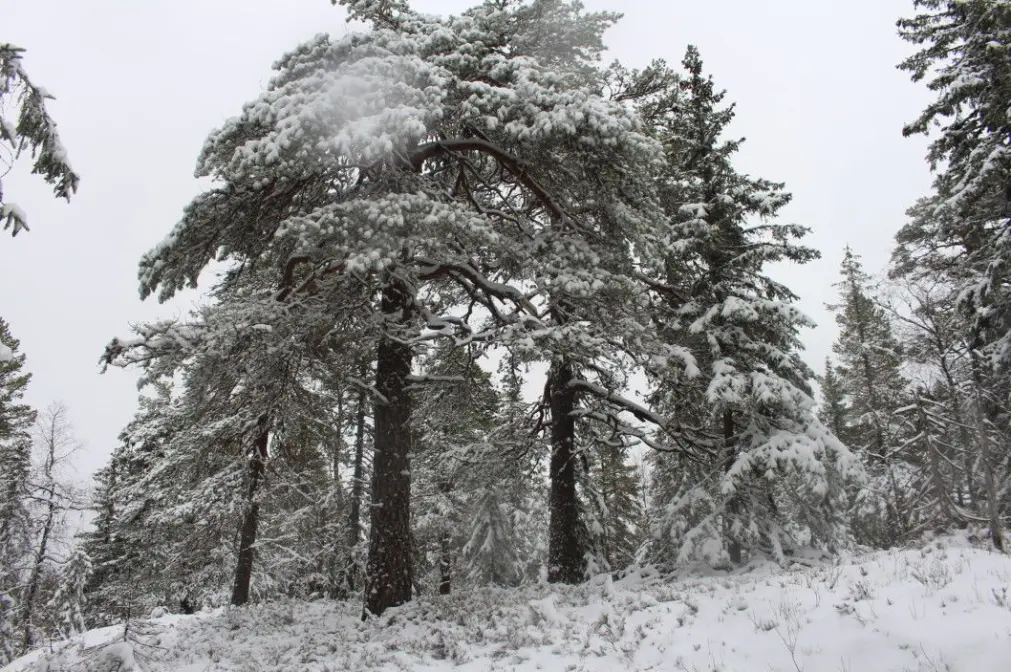 People have left their mark
Is there really primeval forest in Norway?
"Not really, not strictly speaking," Mikael Ohlson, a professor of forest history at the Norwegian University of Life Sciences, NMBU.
Sheep have probably grazed in the most secluded areas. Loggers have come with horses and axes.
"If you think about it, we have left our mark on all ecosystems," he said.
But Norway does have forests that are old, he said.
In these places, the forest has been left to grow and die naturally. That makes it valuable from a biological perspective, he says.
"These are the forests I believe are the most worthy of preservation. We know that there are biological qualities that are rare and that we need to take care of," he said
This type of forest is not necessarily completely untouched, but natural processes have been allowed to run their course here for as long as several hundred years.
The trees are of different ages, and are both short and tall, thick and thin. There are dead trees on the ground. Others are getting old.
The dead, downed trees are in various stages of decomposition. There will often be mosses, fungi, lichens or insects there that are rare elsewhere in the forest.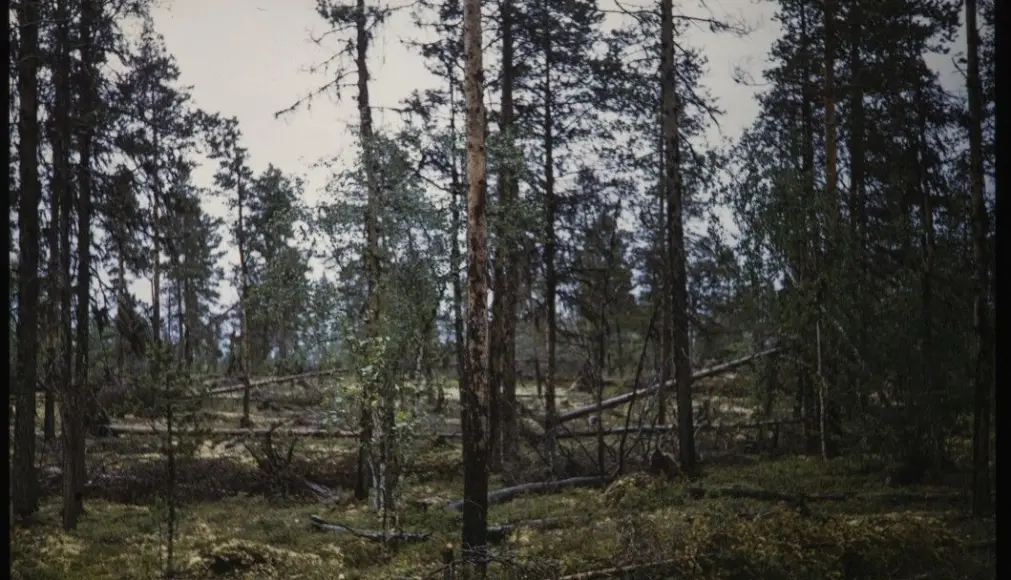 Thousands of years of human influence
Before our use of the forests became industrialized, humans had already influenced the forest for thousands of years.
"About 6000 years ago, we began to cause serious deforestation and created a more open landscape. This is due to the fact that we started growing grain very early," says NMBU's Ohlson.
Norwegians first exported trees in the 14th century, initially to Germany, England and the Netherlands.
"The finest trees disappeared several hundred years ago," Ohlson said.
Just scraps left
The old form of harvesting trees mostly involved cutting the largest and finest trees.
At the beginning of the 20th century, there were consequently very few large trees left in Norway.
The forest was in such poor condition that people were worried.
"There were just scraps left," says Ohlson.
Norway then began a large-scale effort to preserve the forest, planting trees on a large scale.
Beginning in 1940, Norway began using a more modern form of forestry called stand forestry. In this management approach, almost all the trees in an area are cut and a new population is planted or seeds in by itself.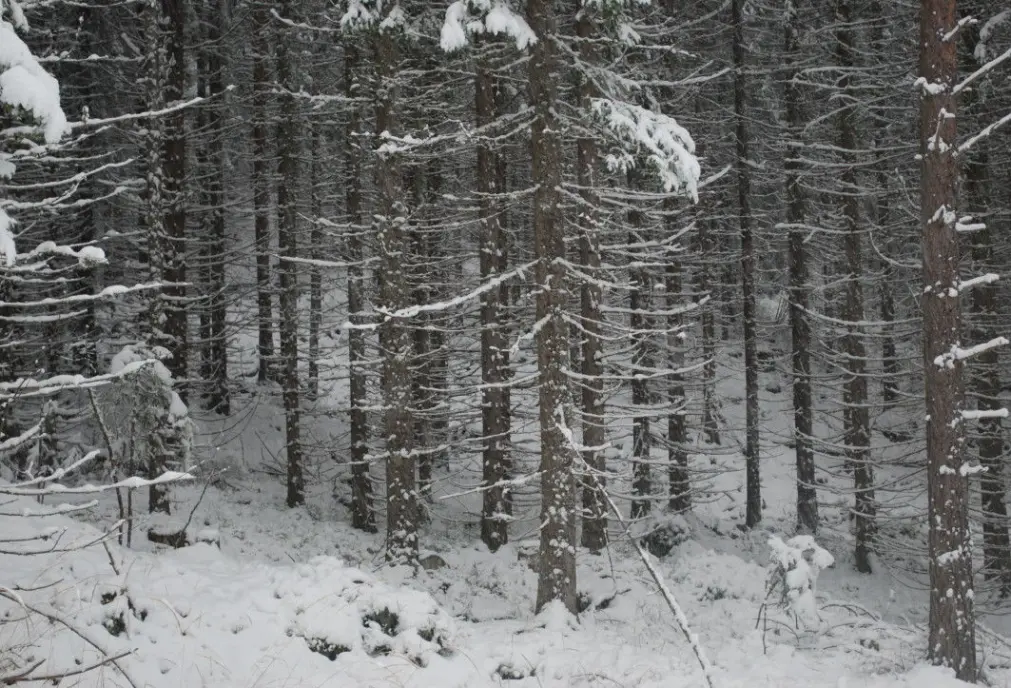 Three times as many trees in a hundred years
This new type of forestry has contributed to the fact that Norway now has many more trees than it did 100 years ago.
The forest grows on its own, out of the remains of a clear-cut forest, and more new trees grow back than were cut down.
At the same time, modern forestry with clear-cutting has had a major impact on what the forest looks like and on species diversity, Ohlson said.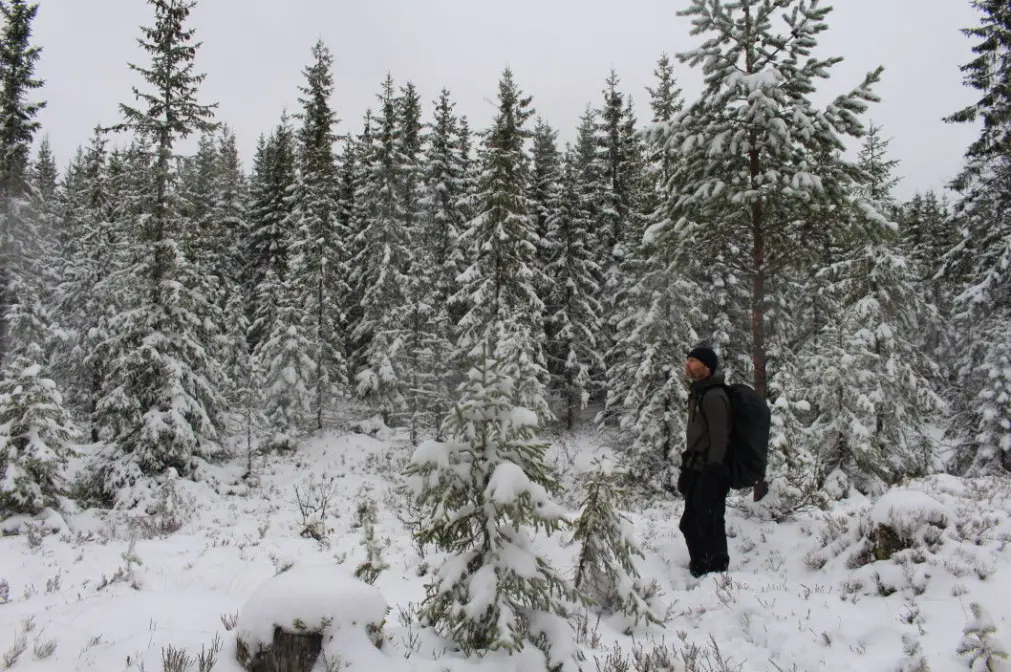 Inside the reserve
Back to Skotjernfjell in Nordmarka, a field of young spruce trees has been planted just before the reserve's border. The contrast to the surrounding forest is striking.
Up on the hill behind the small spruces, a Nature Reserve sign appears.
On the other side of the sign, the trees spread out again.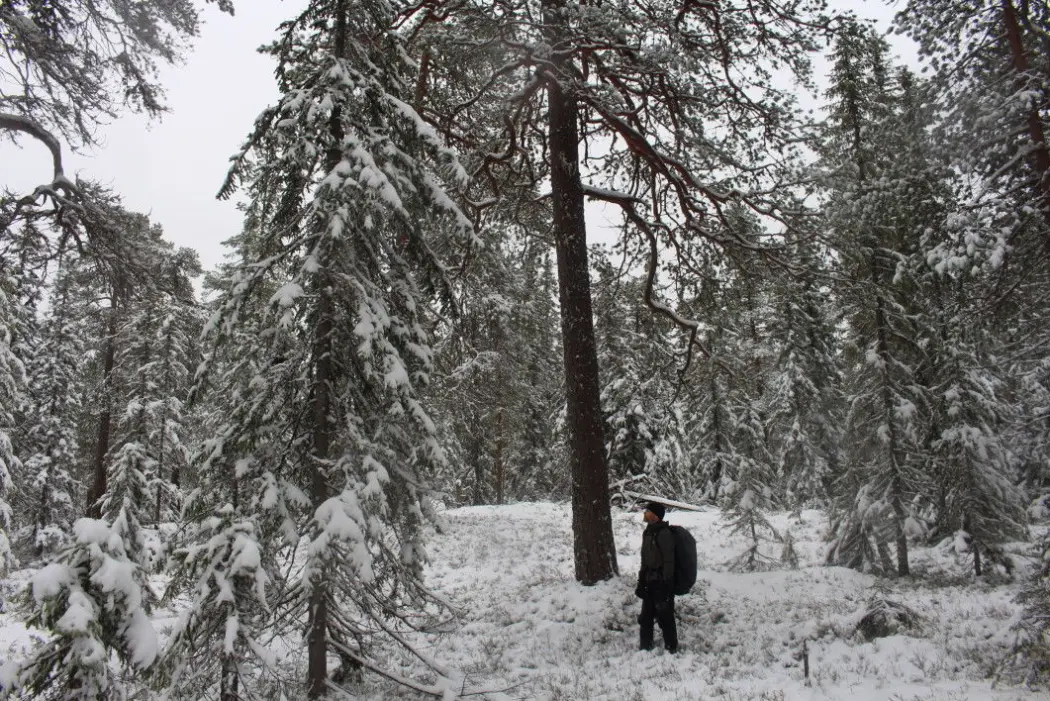 Some of the older spruces grow close together, their thicket of twigs twisting around the middle of the tree like a skirt.
The largest pines have branches as thick as small trunks. They don't seem to have decided which direction to grow and bend to all sides. They have plenty of room.
Bølstad stops at what was once a tree. Now only dead wood remains, and it stands like a small sculpture. It must have stood rotting for many years.
"Remains of pine trees like this are rare in Norwegian forests today," says Bølstad.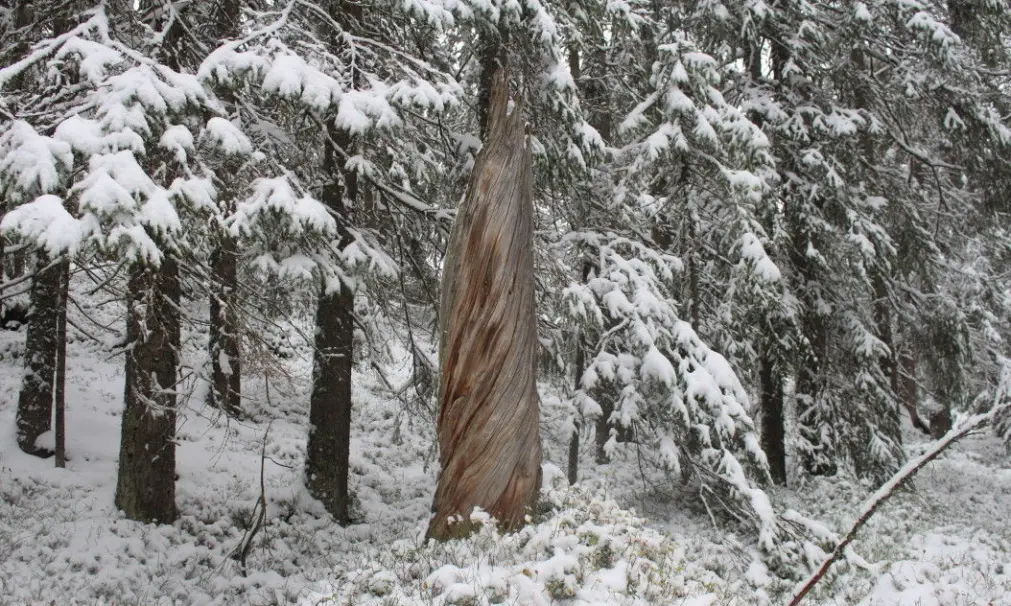 Tilted dry trees lean on bearded spruces. Small tangles of trees are scattered among straight young trees, and there are older stately pines and spruces dense with branches.
The trees are not just tall and thin like the forests below. They appear more monumental. Almost every tree has its own distinctive character.
"Now we see examples of what you can call a forest room," says Bølstad.
The forest varies from one place to the next.
There are still dead trees lying on the ground. Some are on the verge of disintegration, while on others prickly dry branches still stick out of the trunk.
Bølstad bends down by some of them and sees traces of insect life and holes from woodpeckers and other birds.
The electronic map he has with him is dense with dots that show sightings of endangered species.
Wrinkled and weird
When the trees get old, they develop other properties, says Anne Sverdrup-Thygeson, a professor of conservation biology at NMBU.
"Just like us humans, trees get a little wrinkled and weird. They develop patches on the trunk where the bark is dead. They get bumps and lumps," she said.
These trees are important as a part of the species diversity in the forest, she says.
Different fungi grow on the tree and begin the process of decomposition. Cracks and holes become housing for insects. Picky lichen species will only hang from old trees. Birds can pick small insects from the ancients through the winter.
When the tree finally dies, it can decay for many years. Perhaps the bark falls off, leaving only bare, twisted branches.
Or the tree tips over, and the trunk becomes a source of food for fungi and insects.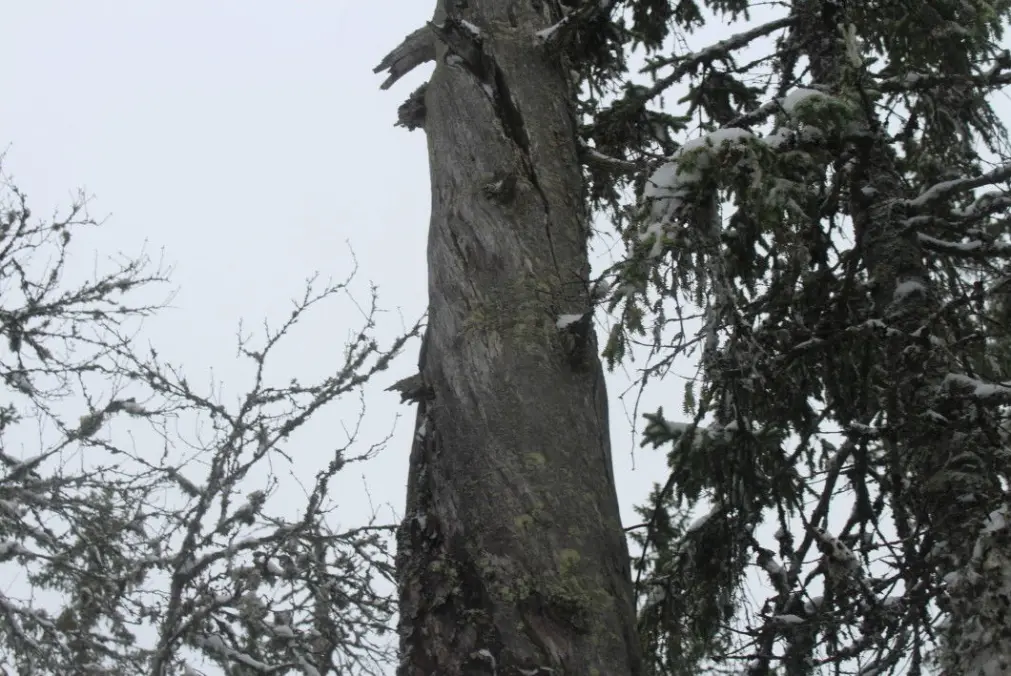 Few old trees
One of the big differences between natural forest and industrial forest is the age of the trees.
Spruce and pine can grow to be several hundred years old. But only 3.1 per cent of the trees in Norway are over 160 years old.
In a forest that was left to its own devices, it would be different, Sverdrup-Thygeson says. Many of the trees would be old, and there would be more dead trees of all kinds.
Some species can have problems because there are not many old forests in Norway.
"We can think of forests as a cycle that is repeated, says Mikkel Soya Bølstad.
Trees grow up, grow old and die.
"A forest plantation stops the cycle. The forest is allowed to go through part of the cycle. Once the trees have grown, the trees are cut down, and the cycle is halted. Then you lose species that were dependent on the last part of the cycle," says Bølstad.
Half of all endangered species in Norway live in the forest.
"We know that more than 80 per cent of them need and are connected to older forests with old and dead trees," says Sverdrup-Thygeson.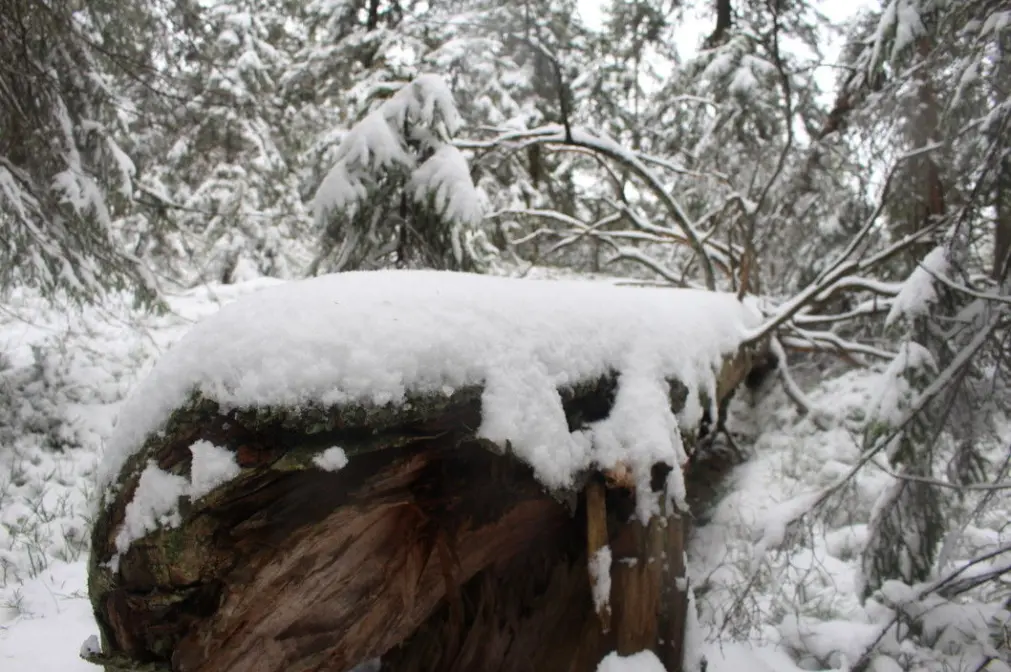 Has not been surveyed
NMBU's Sverdrup-Thygeson wants a better overview of Norway's remaining old forests.
"We don't have a proper survey of the oldest forests," she says.
Between a third and a quarter of today's forests have not yet been cut.
This forest is often rugged and difficult to reach.
"This is the best part Norway's forests today. Real lynx terrain," says Sverdrup-Thygeson
This forest, which can be called natural, is "in sharp decline", according to a nature index report that was launched recently.
An earlier report by Storaunet and Rolstad in 2015 showed that the area of natural forest had decreased by 1.3 per cent annually from the 1990s to 2013.
If this trend continues, most of Norway's natural forest will be felled in 50 - 60 years, or perhaps in 30 years for the spruce forest, the researchers wrote in 2015.
What remains of old or almost primitive forest that has not been protected can also be lost.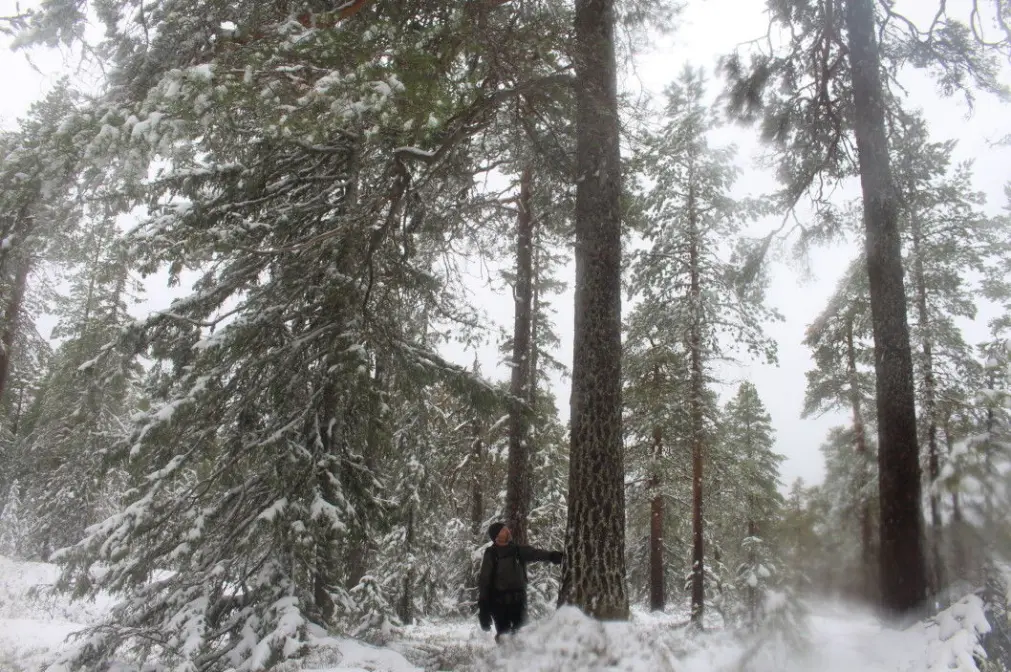 Habituated to what we are shown
Mikkel Soya Bølstad was a boy when he first saw an old forest. He and his father cycled to Spålen in Nordmarka and camped out in a tent.
"I remember that in the morning when we woke up, it was foggy, magical and fine. There was this phenomenon where individual trees suddenly became clearer, sticking out of the fog," he said.
"Then I saw that the trees on the other side of the river didn't look like the ones we saw around us on the way up. There were trees of all sorts of different ages, crooked and weird. Then I began to realize that yes, there is an absolute difference between forests," he said.
But Bølstad is afraid this vision of what a forest is about to disappear.
He constantly notices advertisements and films that purport to show old natural forests, but instead show forest plantations.
"You get used to what you see in photos and information. It's a little sad that we're about to forget what a real forest really looks like," he said.
Anne Sverdrup-Thygeson calls it being blind to change.
"We are blind to the change that has happened because we have not seen old-growth forests. And we also don't know how thoroughly affected today's forest is," she said.
"That makes it difficult to motivate people to protect the last remaining patches of old forest, and it's difficult to make politicians understand that it is important to take care of it," she said.
Translated by Nancy Bazilchuk
References:
Mikkel Soya Bølstad: I skogens dype, stille ro. Jakten på den norske urskogen (In the deep, quiet peace of the forest. The hunt for the Norwegian primeval forest.) J.M. Stenersens Forlag. 2019. ISBN9788272016875
Norwegian Red List for Species: Status for truga artar i skog (Status of threatened forest species)
Plots, S. M. & Dalen, L. S. (eds.): Bærekraftig skogbruk i Norge, (Sustainable forestry in Norway) NIBIO, 2018.
Simon Jakobsson, Bård Pedersen (eds.): Naturindeks for Norge 2020: Tilstand og utvikling for biologisk mangfold (Nature Index for Norway 2020: State and development for biological diversity). NINA, 2020.
NIBIO: Nye rekordtall for skogen i Norge, (New record figures for Norway's forests) 2017.
Ken Olaf Storaunet og Jørund Rolstad: Mengde og utvikling av død ved i produktiv skog i Norge. Med basis i data fra Landskogstakseringens 7. (1994-1998) og 10. takst (2010-2013). (Quantity and development of dead wood in productive forests in Norway. Based on data from Landskogstakseringens 7 (1994-1998) and Tariff nr. 10 (2010-2013).) Commissioned report 06/2015, NIBIO, 2015
———