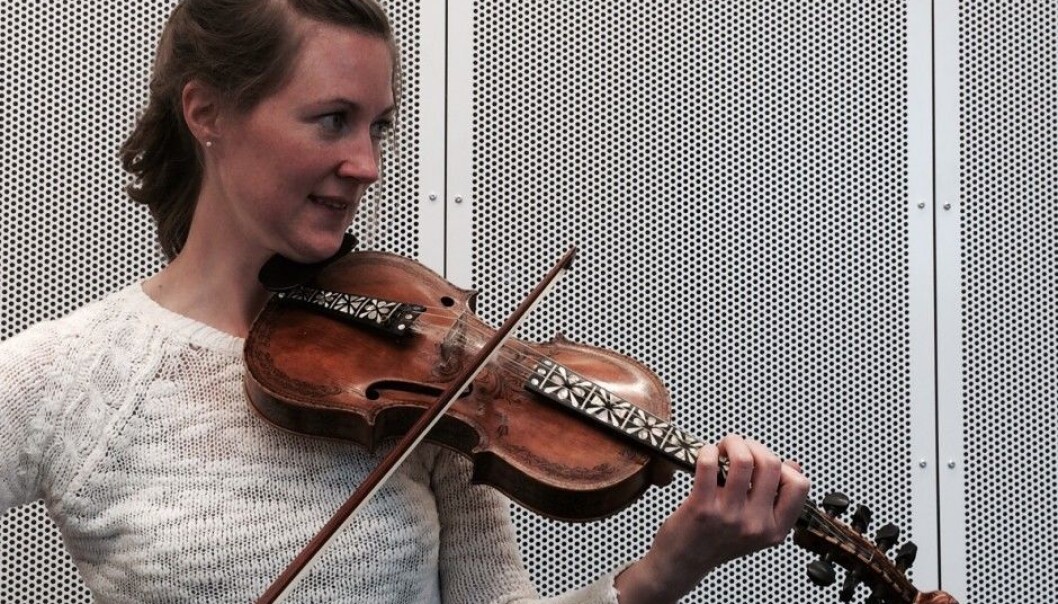 Norwegian fiddle music traditions in the USA die and evolve
Around 360 musicians emigrated from the Norwegian Hardanger fiddle districts to the United States. Nowadays interest extends beyond Norwegian descendants.
Where Norwegians have travelled and immigrated to, their music and dances have gone with them. What has become of these traditional art forms from one generation to the next for the descendants of Norwegian immigrants to North America?
Laura Ellestad, a PhD candidate at the Norwegian Academy of Music in Oslo, grew up in Calgary, Alberta and is herself a Canadian of Norwegian descent. She is taking up this question in her dissertation entitled Norwegian Folk Fiddle in North American Contexts.
Norwegian immigrant fiddlers from the Hardanger fiddle districts who settled in the Midwestern states of Minnesota, Wisconsin, Iowa, North Dakota and South Dakota are the starting point for her study. These states have particularly concentrated Scandinavian populations.
As to the question of what happened to the fiddling tradition in the "new world", Ellestad says "the simple answer is that the music community went in two directions: one group that played the Norwegian village folk dances, or "bygdedans, and the other group that played Norwegian-American "old time music."
In the first group were the Hardanger fiddlers who actively maintained the traditional dance competitions, called "kappleik"— they were the real tradition bearers. The second group consisted of those who played at dances and developed hybrid forms of music with musicians from other countries."
Personal connections to the music
Ellestad is focusing her research on musical developments from 1900 to 1970 and studying a selection of Norwegian traditional folk dances and old time music fiddlers who immigrated to the USA. Her primary sources are written records, since few recordings of these musicians exist.
She found that the bygdedans and kappleik fiddling and dance forms died out with the first-generation immigrants, who probably felt the pressure to integrate into American culture as quickly as possible. The next generation considered themselves to be American and were less interested in preserving their Norwegian heritage. But Ellestad notes that the third generation of Norwegian descendants was more interested in discovering their cultural roots.
Ellestad's own family experience reflects this pattern. Her great-grandparents emigrated to Canada from Valdres in southern Norway. Her grandparents' interest in their cultural heritage was minimal, but her third-generation musician and composer father, inspired by a Lillehammer Winter Olympics ad, decided to learn how to play the Hardanger fiddle.
Like father, like daughter, Ellestad has followed suit, and in 2005 she travelled to Voss, Norway on an Ole Bull music scholarship. Since then, she decided to settle in Norway in 2008, earning a Bachelor's degree in traditional music at the Ole Bull Academy and a Master's degree at the Norwegian Academy of Music. She has simultaneously maintained a music career and was recognized earlier this spring with a Spellemann Awards nomination — sometimes referred to as the Norwegian Grammys — for her solo album Valdres Fiddling in America.
Evolving traditions
Although the bygdedans tradition died out, the more hybridized old time music continued to be played as the party music in local dance halls. It brought together the Norwegian, Swedish and German immigrant cultures and their varied popular dance forms. Old time music reached its greatest popularity around 1970.
According to Ellestad, the difference between Norwegian fiddle music in the USA and the "old country" can be heard in their rhythm and style, as well as in their instrumentation. "Partly the use of the piano, but especially the introduction of the banjo," distinguishes the American version. In addition, she says, "it lies in the nature of musicians to compose their own music, so over the years the common repertoire grows smaller while the musical expression grows more varied."
And today? Ellestad says that Norwegian folk music in North America enjoys quite a bit of activity. The difference now is that the music is no longer necessarily passed on only through Norwegian cultural lineage.
"Today the culture is marked more by people who have discovered the music through different channels, on their own, and they can have quite diverse cultural and ethnic backgrounds," says Ellestad.
——————————————————————
Read the Norwegian version of this article at forskning.no
External links
Related content