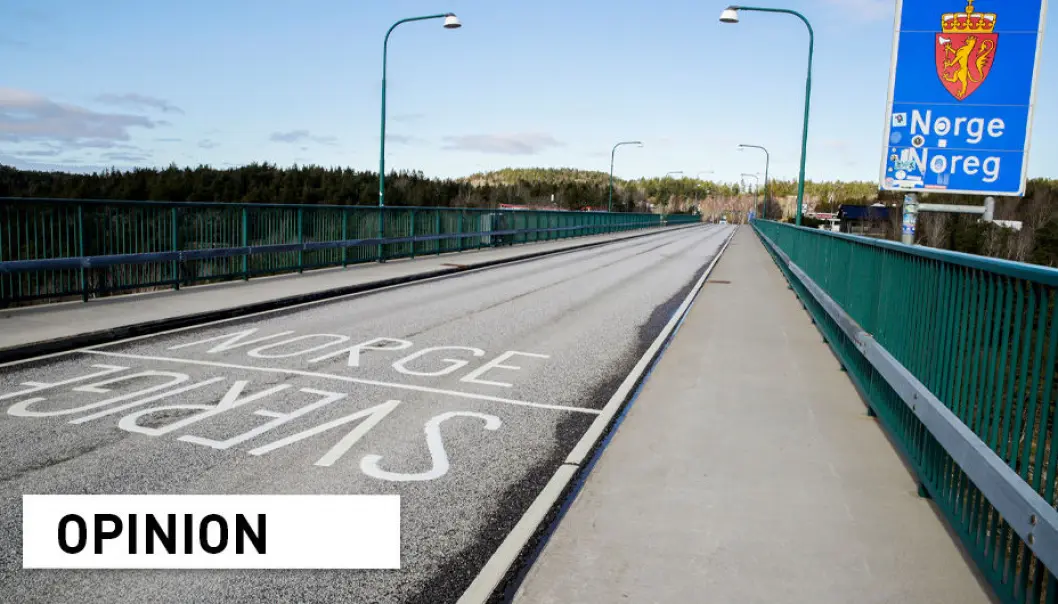 Coronavirus measures are dividing Scandinavia. What is going on with the Swedish border?
OPINION: For people living near the border between Norway and Sweden, moving between the two countries was part of everyday life. The border was something they rarely – if ever – thought about. Coronavirus measures have changed this, dividing families and causing unemployment in Swedish border municipalities .
Norwegian anti-coronavirus measures have caused unemployment to rocket in the Swedish border town of Strömstad. Both Strömstad's mayor and the municipal director of the Norwegian border town of Halden have requested a relaxation of border restrictions. So far, Norway's central government has outright rejected their requests.
How is it that infection-control measures, which are considered absolutely essential by the central government, are encountering so much resistance locally? And why are local protests gaining so little understanding from the government?
To improve our understanding of this tension, we need to understand the role played by the border itself in the everyday lives of the people who live close to it, and at same time understand the motivations for this "new" Swedish border.
Different choices, mutual irritation
Norway's anti-coronavirus measures have made its border with Sweden into a "hard border" for the first time since 1954, when the Nordic countries introduced passport-free travel and freedom of movement.
Most people who now live close to the border have never experienced a hard border, and their cross-border relationships are of central importance in their everyday. Accordingly, the border situation has created economic, social and emotional challenges.
The "new" Swedish border is "objectively justified" by infection rates in the various Swedish regions. The two countries have handled the pandemic very differently. Sweden has remained relatively open, while Norway has opted to impose lockdowns of varying strictness and duration.
To universal horror, Sweden's virus-related death toll has passed 7000, while Norway and the other Nordic countries have each experienced a few hundred fatalities.
Seen from outside the country, Swedish decision-makers are widely considered to have taken a passive, and sometimes callous, approach to dealing with the crisis, allowing the virus to spread unchecked with the goal of achieving herd immunity.
This approach has probably contributed to the Norwegian measures being designed as isolation strategies, focusing on people avoiding contact with each other, and – in areas close to the border – on Norwegians avoiding contact with both Sweden and Swedes.
There are several explanations for why Sweden chose to follow its own course, and they are the subject of much attention. Among other things, commentators cite differences in the countries' relationships between politics and administration, reforms involving privatization, historical experiences of crisis management, and political culture.
Difficult to understand from a Swedish point of view
In June 2020, the Nordic countries, like other European regions, were expected to establish a common "travel bubble". But while Denmark, Finland, and Norway opened up their respective borders to inbound and outbound travellers, they kept their borders with Sweden closed.

This decision was taken against the background of Sweden's handling of the coronavirus crisis and the country's high rankings on European tables for transmission rates.

Historically – ever since Norway lost Jämtland and Härjedalen in 1645 – Norway has had to put up with Sweden dominating decisions about the geographical and political border between the two countries. Suddenly, however, Norway is "setting the boundaries".
From a Swedish point of view, it has been difficult to understand the isolation-based strategies of its Nordic neighbours. Swedes have expressed frustration about "special treatment" and been upset about being blamed for Norwegian rates of infection.

Anna Hallberg, the Swedish Minister for Foreign Trade and Nordic Affairs, has also criticized what she believes to be unclear communications about the timing and duration of border closures, and about which regions are open or closed at any one time.
Norway has referred to transmission-related criteria as "objective" justification for determining which regions and countries should be open.

Nonetheless, there have been accusations that the border closure was economically motivated. The mayor of the Swedish border municipality of Årjäng threatened to report Norway for breach of the EEA Agreement on free movement of goods, services, and persons. Sweden's foreign minister Ann Linde and Nordic affairs minister Anna Hallberg have stated that the isolation strategy will leave "deep scars" and damage the relationship between the two countries, as well as Nordic cooperation as a whole.
At the same time, Swedes who work in Norway have reported being discriminated against and isolated at their workplaces. The concept of "party Swedes" [party-loving young Swedes living in Norway] has been replaced by that of "corona Swedes", and some have had their cars vandalized.
What is the local and central impact of the border rules?
The impact of the "new" Swedish border is perceived differently centrally and locally.
Nearly 50 per cent of Norwegians live within a two-hour drive of a cross-border shopping destination, and large numbers of Norwegians are cross-border shoppers. Several Swedish municipalities are completely dependent on Norwegian visitors. Since the new border restrictions were imposed, unemployment in Swedish border municipalities has risen sharply, and several are now experiencing serious economic crises.
The lives of people in border regions tend to be closely intertwined. Since the end of the 19th century, the Nordic countries have cooperated on harmonizing social policy, employment and tax regulations, and the delivery of welfare services, in order to simplify border crossings and the everyday lives of people living in these regions. Many people live on one side of the border and work on the other. Children have parents and siblings on each side of the border, but have been able to meet unhindered nonetheless, precisely because it has been easy to cross the border.
Those who live further from the Swedish border will get along fine for a few months without a leisure trip to Sweden. But for those who live in areas close to the border, cross-border movement is part of everyday life, and the border was something they rarely – if ever – thought about.

Ståle Løvheim, manager of Nordby Shopping Centre in Strömstad, told Norwegian public broadcaster NRK: "Halden and Strömstad are like Sarpsborg and Fredrikstad, or Oslo and Asker & Bærum. There are families who aren't getting to see each other."
It is still possible to cross the border, but there are quarantine and testing requirements, among other things, on arrival in Norway. And for most people, quarantine is not a practical option.
What will happen now?
The situation between Sweden and Norway will no doubt normalize.

This crisis has shown clearly how closely Norway and Sweden are intertwined: primarily through their cross-border economic and social relationships.

Norway is also one of Sweden's most important trading partners. Accordingly there are several good reasons to normalize the situation, and also to establish a better basis for cooperation before the next crisis hits.
The current border policy may leave deeper scars on people living close to the border, however: they have now become aware that there actually is a border, and that it defines some actual differences, whether these differences are political, administrative, cultural or social.
The ScienceNorway Researchers' zone consists of opinions, blogs and popular science pieces written by researchers and scientists from or based in Norway. Want to contribute? Send us an email!