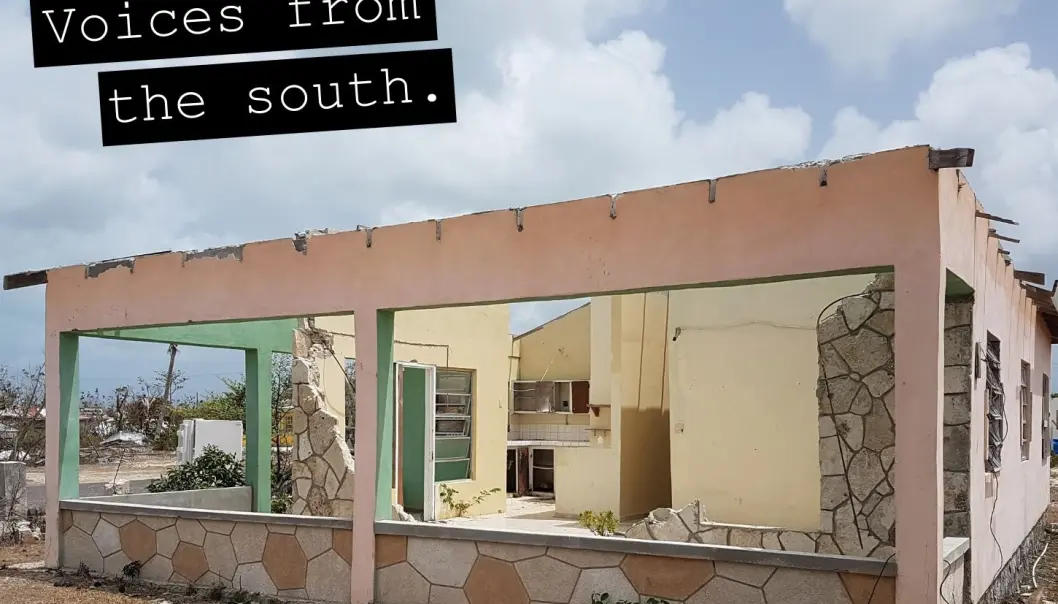 Time to wake up: Climate Change is already here
The serious warnings of the latest IPCC report lost the battle for media attention to Brexit, Trump, and the US mid-term elections. But it's time to sit up and take notice. For small island states that face loss of sovereignty due to climate change, the clock is already ticking, warns climate researcher Adelle Thomas from the Bahamas.
I often joke that we describe climate change as a car that's speeding off the edge of a cliff. We describe the make and model of the car, the exterior and interior colors, the level of air pressure in the tires. But all of this detail perhaps takes away from the main message: that we need to stop the car from plummeting over the edge.
I think that this latest IPCC Special Report on 1.5C, the result of over two years of collaboration by more than 100 scientists from around the world, of which I am one, is our best effort thus far to alert the world that climate impacts and risks are significant, potentially catastrophic, and that we must act now while there is still time.
And yet one month after its release, the reception of the report has been underwhelming, to say the least.
Despite an initial flurry of online and print articles, the dire warnings of the report have since been buried amongst other topics, including the ongoing fixation with Trump, Brexit, and the US mid-term elections.
In the Caribbean region, where I'm from, there has been even less media attention on the report with very few outlets highlighting its significance for small islands-one of the regions identified as facing disproportionate risks from continued global warming.
Read More: It's important to have a goal: UN climate report view from the Nordics
The bad news…
In my view, the IPCC Special Report was a wakeup call--a stark assessment of the current impacts that the world is already experiencing and the significant differences in risks between 1.5C and higher levels of warming.
Crucially, it highlights the need for widespread and transformative change to limit temperatures to 1.5C above pre-industrial levels.
For particularly vulnerable groups, such as small islands, half a degree of warming could mean loss of land, loss of ecosystems, and ultimately loss of sovereignty.
Thus, the report is a wakeup call for all vulnerable groups and regions: the current impacts that we face as a result of climate change, including more intense tropical storms, drought, heatwaves, and sea level rise, will only increase as global temperatures continue to warm.
We are inadequately equipped to address these impacts now and the gap between our capacities to adapt and the impacts that we face will only get worse with rising temperatures.
Read More: What will our climate look like in 2050?
The Good News?
However, the report also stressed that limiting temperatures to 1.5C is possible, but that it requires significant change.
Thus, the report is a wakeup call to high and growing emitters, such as Europe, USA, China, and India, that their current practices are unsustainable and that there must be transformative change. This means a rapid shift to renewable energy.
With current practices, we may reach 1.5C of warming by as early as 2030. No longer are the dismal projections of climate change some far off distance away so that we don't really need to pay attention.
As climate change science improves, we see that impacts that we once thought wouldn't affect us until 2100 will occur within our lifetimes. And each IPCC report shows more and more dire implications with nearer and nearer dates. Thus, we must not continue to pay only fleeting attention to these warnings-there must be concerted and urgent action.
Read More: Time to re-think the climate change challenge
2017: A warning from the Caribbean
For small island developing states (SIDS) in particular, the IPCC report includes important projections of risk. And as temperatures rise, we can expect to see an increase in intensity of tropical cyclones.
But, as the devastating impacts of the 2017 hurricane season in the Caribbean show, the region is already unable to cope with these severe storms.
Hurricanes Irma and Maria resulted in devastation across the region, including damages of over 225 per cent of GDP in Dominica and the complete evacuation of Barbuda. This was the first time that the island has been uninhabited in over 300 years.
More intense hurricanes than those that we have already experienced poses a significant threat to economic development and human well-being.
Read More: An open letter to Danish universities: Let us show the way towards a more ambitious climate agenda
The difference between 1.5 and 2C for the Caribbean
There are also measurable differences in sea level rise between 1.5C and higher levels of warming.
At 1.5C, we can expect about 10 cm less sea level rise than we would see at 2C of warming. That might not sound like much, but the report estimates that those 10 cm would prevent 10.4 million people around the world from being exposed to the threat of sea level rise. And at 2C, we face the potential of multi-metre sea level rise by 2300 stemming from the possibility of melting ice sheets in Antarctica and Greenland.
This would have catastrophic implications on a global scale and would mean the submergence of many low-lying small islands, resulting in thousands of climate migrants with significant human rights implications.
Other relevant risks for SIDS such as increases in mean atmospheric temperatures, hot temperature extremes, reduced freshwater availability, significant threats to ecosystems including near complete loss of coral reefs, and increasing heavy rainfall events, all show significant differences between 1.5C and 2C.
This is partly why small islands are facing disproportionate risks as temperatures increase.
Read More: Here's what a warmer world will look like in Norway
A consensus on the consensus
The IPCC Special Report provides scientific consensus that there are significant differences in risks between 1.5C and higher levels of warming -- a point that SIDS have been making for years.
Thus, the report provides critical support for one of the key goals of SIDS-to limit the global average temperature increase to no higher than 1.5C.
However, current international and national policies and plans fall well short of this and put the world on track to exceed 3C of warming.
As climate negotiators meet in Katowice this month for COP 24, this IPCC report will hopefully be used to underscore the need for strengthened commitments to curb emissions and to limit the global average temperature increase to no higher than 1.5C.
The time to act is now, while it's still possible.
----------------
This article is part of the Voices From the South theme at Forskning.no. Read the Norwegian version of this article at forskning.no and check out the theme page here on ScienceNordic for more articles written by scientists and researchers from the Global South.
Scientific links
External links
Related content