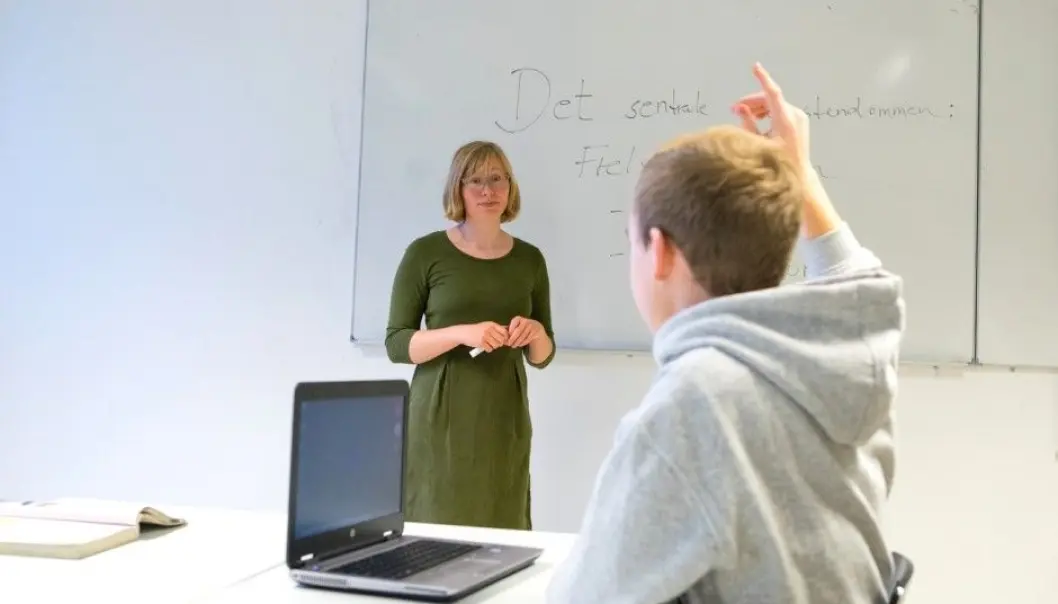 This stresses pupils at school
Is school the problem? Is it parents? Or the pupils themselves? Norwegian researchers have compiled and compared information from over 2,000 international studies on the theme of stress in school. They found a variety of answers.
Many kids in junior high school and high school spend much time worrying.
This was seen in the latest Municipal Youth Survey (Ungdata) from 2016 in which 190,000 Norwegian teenagers aged 13 to19 participated.
According to Ungdata one negative and three positive keywords summarise life for Norwegian teenagers today:
Well adjusted, active, home-loving – and concerned.
Pressed for time and social relationships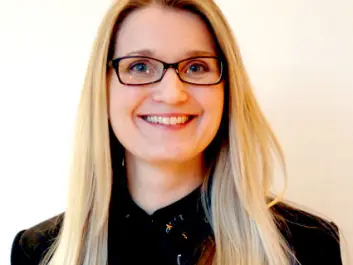 What is seen in Norwegian teens is probably the situation for many of their peers worldwide.
When Kristin Børte and Erik Ruud at the Knowledge Centre for Education in the Research Council of Norway started searching for relevant international studies they found over 2,000 fairly recent research articles about what stresses out teenagers at school. A critical perusal narrowed the material down to 33 studies which they considered solid and highly relevant for the situation in Norwegian schools.
In summary this research informs us of three things that stress kids in junior high and high schools:
First, stress caused by homework or pressure to get finished with school work.
The second element focuses on the teenagers' own ambitions. Having an identity as a good student or the wish to qualify for special studies often triggers stress.
The third element involves social relationships. Poor relationships with fellow pupils or teachers make for another stress factor.
Not performing worse
"The research we have seen does not show any association between being stressed and doing poorly in school," underscored Kristin Børte when the results of the summary were presented at a breakfast meeting at Grand Hotel in Oslo.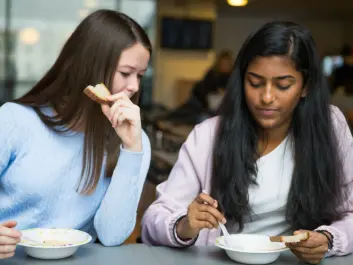 Stress, it would seem, does not sink the academic performance of the pupils.
"It's also important to remember that there are positive as well as negative types of stress," said Børte.
"A dose of stress in needed for pupils to perform optimally. An example is if a teen wants to do well in an exam."
It can deter from your satisfaction and learning if you are bored at school without feeling any sort of pressure or stress.
The challenge for teachers is thus to find the right balance so that pupils don't have an overload or an underload of school work and activities. Børte thinks efforts with this in mind should be considered an important element of a teacher's competence.
Six contrasts that cause stress
At their core, all the 33 studies examined by Børte and Ruud pointed to an antagonism: The contradiction between how the young person thinks things ought to be – and how he or she really experiences them.
Six incompatibilities stand out as reasons why teens feel stressed at school:
Friends mean very much for most young people. Many would rather be together with their friends at any given time. They get stressed if they are allowed insufficient time to social activities.
Support from the family is important for young people. Some pupils receive little support from home or experience conflicts there. This can also stress a teenager.
Good, supportive relations with fellow pupils mean a great deal. Conflicts and competition with them are stressful. Social isolation, being frozen out, and the fear of these, is stressful.
Support from teachers is highlighted in many international studies as important for pupils' commitment and involvement. Teachers who are overworked, stressed or unmotivated can have a bad impact on pupils. This is something schools need to keep in mind.
Pupils make demands on themselves. Stress can result if a pupil's performance is poorer than he or she expects. In such cases, self-generated pressure becomes negative.
The school also has expectations to pupils. If the pupil isn't meeting the requirements or anticipations of the school, he or she will often become stressed.
Girls more than boys
Girls experience more school-associated stress than boys do.
Girls are also more concerned about the future. They think more and oftener about this than boys do, according to international research on the subject.
"All studies show that girls get more stressed than boys at school," said Kristin Børte and added:
"It looks as if girls are stressing girls."
Girls are worried
The summary of the international research work on school stress indicates several answers here:
Girls often have high expectations of themselves and encounter higher expectations from their surroundings.
Girls fear bad grades more than boys do.
Relationships with friends are probably especially important for girls.
Girls are impacted more by others who are stressed, particularly other girls.
Girls fret in general more than boys do.
Girls' stress is something schools should be especially aware of, according to the summary of international research projects.
More stress now?
Are pupils more stressed today than years ago?
The Health Behaviour in School-aged Children (HBSC), an international collaboration, finds that school pressure which youth in many countries experience has levelled off and been relatively stable in the past 16 years.
Stress in school has not necessarily become more pervasive, at least not in recent years. Maybe there is simply more focus on the problem. We might well be a little more open and concerned about it.
Another summary of research compiled at the Oslo and Akershus University College of Applied Sciences (HiOA) shows that mental afflictions among young people are more common than 30 years ago, especially among girls. But this summary also indicates that the level of the problem became fairly stable from the year 2000.
Hard to measure stress
Erik Ruud at the Knowledge Centre for Education emphasised during the recent presentation that stress is hard to gauge precisely.
Much of the research is based on self-reporting by pupils through interviews and various questionnaires.
However, some of the research in this review is based on the measuring of the stress hormone cortisol in spit samples from the teenagers.
All of these methods for assessing stress levels have their drawbacks.
Trouble in 9th grade
A new Norwegian study by researchers at the University of Agder in Kristiansand and published in "Tidsskrift for psykisk helsearbeid" shows that girls in particular report an increase in depressive feelings and thoughts in the transition from 8th to 9th grades in junior high school.
The girls explain this as being linked to pressure to make good grades, pressure to have the right body and looks as well as group pressure.
Most of the girls interviewed by the researchers from the University of Agder said the first year of junior high was more like a continuation of elementary school. Kids get some eedback throughout elementary school – which ends in 7th grade – but marks are not given in Norway until junior high. In the 8th grade it was exciting getting grades (marks).
But by 9th grade this starts getting very serious.
The pupils felt that their marks could have a big impact on getting into the right fields of studies at high school. There was a clear elevation in pressure.
Some girls tell researchers that they never feel any let-up or leisure time away from school work in junior high. There is always some sort of school work that should be done. The researchers interpret the pupils as lacking control over their daily lives.
--------------------------------------
Read the Norwegian version of this article at forskning.no
Translated by: Glenn Ostling
Scientific links
External links
Related content