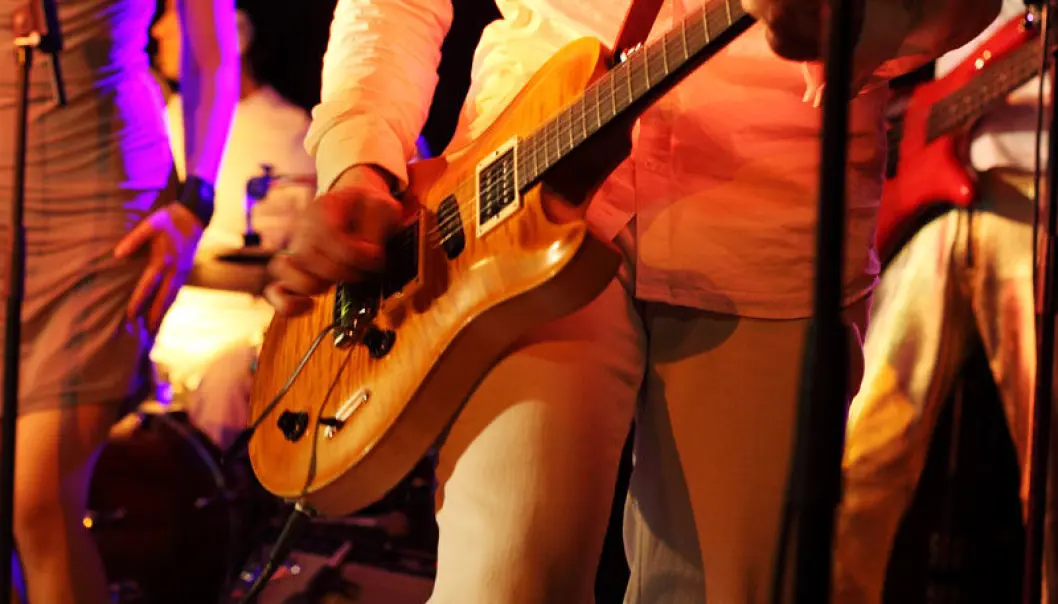 Music therapy in child welfare
Playing in bands and organising concerts improves life in child welfare institutions.
Denne artikkelen er over ti år gammel og kan inneholde utdatert informasjon.
This is revealed in a doctoral study by Viggo Krüger at the University of Bergen (UiB).
Krüger has a background as a musician, including his years as a guitarist in the Bergen-based pop band Pogo-Pops. He's a musical therapist by profession and recently got his doctorate in collaboration with the Grieg Academy at UiB.
"In my work as a musical therapist at a child welfare institution I witnessed that music has a vital mission. I knew from my own experience what music has meant and means on a daily basis," says Krüger.
And he also wanted to see what significance music in various contexts had for adolescents who reside in institutions.
"I'm talking about listening to, participating in, making and recording music."
In addition to researching his own experiences, Krüger interviewed 15 young adults who live or have lived in child welfare institutions. Their ages ranged from 18 to 23, a slight majority of them were young women.
He says that the young people's stories show that music offers consolation and security. As children, many of them were uprooted several times and can have difficulties developing relationships, both with adults and other young people. Music often becomes a prominent solution.
"Many have experienced how a melody can have a huge impact," says Krüger, who works as a musical therapist at a privately run social services agency.
Adult participation
In his work, he has observed how music can be used as a medium of personal expression.
"Writing and singing your own lyrics is really meaningful – through lyrics they can find an outlet and say things in a way that will be heard," he says. "While once so inconspicuous they were nearly invisible, they explain how they manifested themselves by performing. They want adults to join in and give advice, and to listen to them when they perform."
According to him, everyone who performs would like an audience, and for these young people it's great to get the opportunity to step forth with their experiences in lyrics and melodies. The significance of achievement is huge and it can really help them gain self-confidence.
"Being a member of a band, recording your own music, to have a chance to hand out a CD you've made, these are significant for the persons involved. It's truly meaningful for these young people," explains the musical therapist, who has noted how music can be used as a preventive remedy.
The young people have experienced what it's like to be in a rock band, to review projects and to take part in other forms of performances.
Convention on the rights of the child
One aspect he examined in his doctoral thesis was how adolescents can exploit music's opportunities to reduce disparities in power and institutional barriers in child welfare institutions.
"The Convention on the Rights of the Child says we should ensure children's rights of participation in decisions affecting them. We who work with children and adolescents ought to recognise their right to choose music and make allowances for their use of music in their spare time," he says.
"Allowances for leisure time at institutions are often inadequate. I hope my doctoral thesis can help change this practice. Child welfare children need structures that bolster their cultural opportunities."
Music as a social strategy
Music and the understanding of it can be used in a variety of social contexts.
"That's another aspect. The ability to listen to, talk about and have an opinion about music can be a channel for forging strategies for future situations, alone and together with others.
"Music, with all its facets and usages, can act as a powerful tool that can be useful your whole life. I've seen and documented that musical therapy is important and should be used in child welfare," says Krüger, who plans to teach others to use his methods and findings.
---------------------------
Read this article in Norwegian at forskning.no
Translated by: Glenn Ostling
External links
Related content