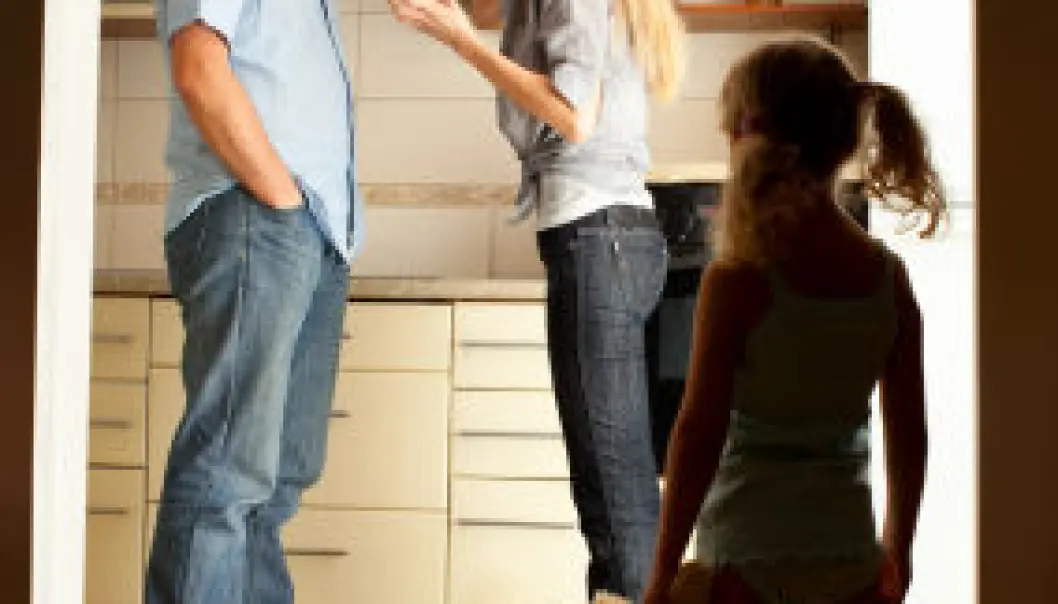 Mediation doesn't solve domestic violence problems
When parents decide to split up, mediation sometimes conceals problems rather than solving them.
Denne artikkelen er over ti år gammel og kan inneholde utdatert informasjon.
A break-up can be a very tough process when a marriage or partnership founders and children are involved. Some divorces are so messy the case must go to trial.
If so, the parents are obliged to take part in one or more sessions of mediation. This is an arrangement in which an independent third party participates in negotiation meetings with the parents, hopefully helping them find a solution everyone can accept.
But is this always the best course?
"As a rule, mediation seeks to reduce conflicts, and sometimes that keeps severe problems like domestic violence and substance abuse from coming out in the open. This is neither in the better interests of the parents nor the children," says Anna Nylund, a post doc at the University of Tromsø's Faculty of Law.
In a new study, she has compared the statutes regulating the mediation arrangements in Norway with those of other countries, including the US and Australia.
She thinks there's plenty of room for improvements in the current Norwegian system.
Invisible domination signals
The mediation scheme in Norway is relatively new, and the laws that regulate it weren't enacted until 2004. Mediation is subordinate to the court system and parents can use it as an option.
Nylund explains the idea is that a neutral third party gets involved in a conflict and helps the parents negotiate a solution. The objective isn't to settle a dispute, but rather to help analyse it and look for possible solutions.
There are two prerequisites for this to work: The parents must be capable of perceiving what's best for the children and be able to negotiate. The latter is impossible if a balance of power is seriously lacking in their relationship.
For instance there can be situations in which one of them holds sway by subjecting their partner to physical or mental abuse.
"The expert who is mediating might not catch subtle, invisible indications of this. Then the solution might be bad, especially for the child," says Nylund.
Parents should solve it themselves
"Of course it's positive that mediation can reduce conflicts between parents. But it can also prevent serious problems from coming out in the open. Other more mundane problems can also be swept under the rug if the mediator is primarily focused on achieving mutual agreement," says the researcher.
This could happen for example if the parents live far from each other and one of them wants to split the time with their two-year-old 50/50.
It wouldn't necessarily be ideal for the little tot to fly between two places twice a week.
Nylund also points out some weaknesses in the way third parties are used in the mediation scheme in Norway.
She says the third party is not simply a mediator. He or she can also act as an authority. So if the parents can't reach an agreement, the same individual who arbitrates is the one who writes a recommendation to the court about what should be done.
"What I've seen is that this dual role makes parents more likely to give up – they figure they can't solve the problem themselves and let the officials take over. But the goal is for the parents to solve the conflict. They're the real experts when it comes to their own family," she says.
Discerning the right methods
Nylund has looked at the US, Australia and Canada, where mediation schemes have been available since the 1970s for families who are splitting apart. She thinks Norway could learn a number of lessons from them.
She believes that we need to determine which families have lower conflict levels and can be served by mediation – and which are better off by letting the court decide directly. If we can sort out who needs what, we can reach better solutions faster.
According to Nylund, parents should certainly have the opportunity to get counselling before taking a prospective divorce to court.
Like in several US federal states, both parties fill out a questionnaire about the family. On the basis of their answers, attempts can be made to sort families according to the kind of assistance they need. For instance in families where domestic violence is ticked off in the questionnaire they will automatically be summoned to an interview with a therapist.
"The problem with the current laws in Norway is that it's unclear what mediation can be and should be used for. Some are offered good counselling prior to the mediation, and others not. Some mediators are specially trained and educated, others not. We lack a universal practice," concludes Nylund.
-----------------------------------------------------
Read this article in Norwegian at forskning.no
Translated by: Glenn Ostling
External links
Related content