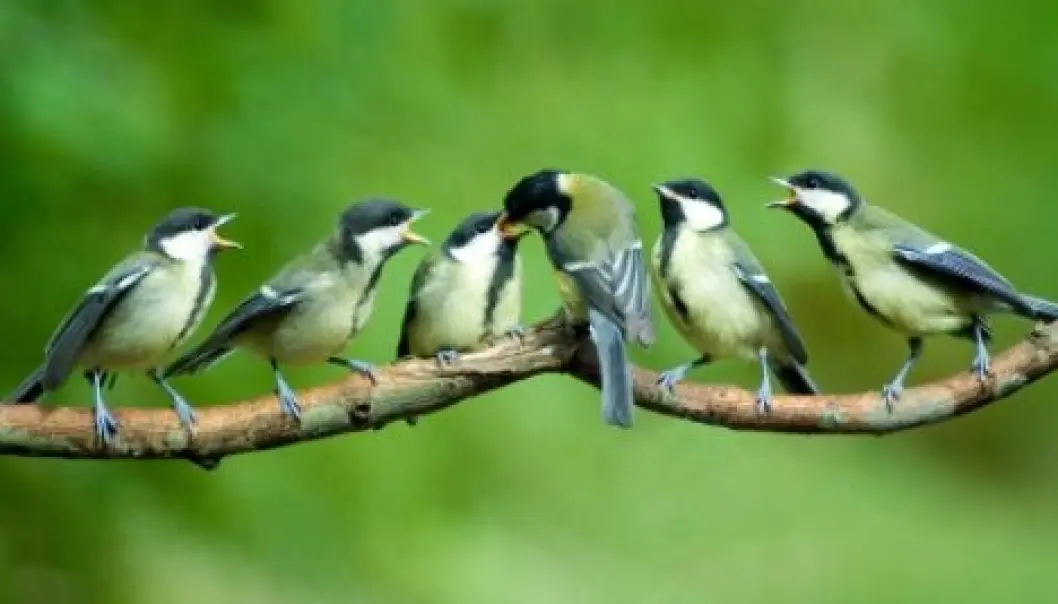 Great Tit tackles earlier springs
Species could be more resistant to climate change than simple models suggest.
Many of the most insidious effects of climate change involve scenarios where the fine-tuned cogwheels of nature fail to mesh.
When spring comes progressively earlier, Great Tit chicks hatch too late to feed on caterpillars. Many chicks starve, which means there will be fewer Great Tits in the following year.
This failure in seasonal synchronization leads to what is known as a phenological mismatch. Biologists fear that this kind of breakdown of natural mechanisms can affect all kinds of ecosystems and animals – from Barents Sea cod to moose in the forests of the Northern Hemisphere.
What happens, for example, if algae blooms flourish too early in relation to the tiny crustaceans that feed on them? Or if the favourite plants of moose calves wither before the animals have started to browse?
Catching fewer larvae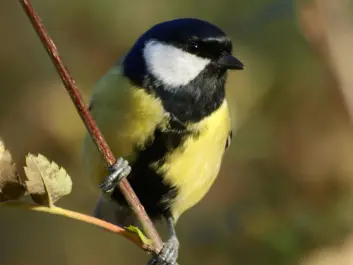 A new study by researchers from Norway and the Netherlands published in Science on Friday suggests that these mechanisms are more complicated than once thought.
The study is based on data from a closely watched population of Great Tits in the Netherlands. The 2013 spring season has been cool and late in North America and Europe, but in general, spring has arrived progessively earlier for the birds over the last four decades.
This has had dramatic consequences for the feeding habits of Great Tits.
"Small birds are strongly adapted to hatching chicks at a time in the spring when they find the maximum amount of insect larvae, and especially caterpillars," explains Professor Bernt-Erik Sæther of the Norwegian University of Science and Technology, one of the scientists behind the study.
Starving chicks
The Great Tit has problems when an earlier spring causes caterpillar larvae to mature earlier, because that means by the time that Great Tit chicks are ready to feast on caterpillars, the caterpillars have become butterflies.
However, birds that nest earlier than average will hatch chicks in time to feed on caterpillars, which helps in the overall survival of the population.
But in general, the Great Tit cannot shift its breeding and egg-laying patterns quickly enough. Insects can shift in response to the seasons more easily than birds can, according to earlier studies, so there is a lag that affects the birds' food supply.
The lag means that there is less food for Great Tit chicks. Some chicks starve and never make it to the fledgling stage.
No drop in numbers
In spite of years of this sort of phenological mismatch, however, the scientists saw no drop-off in Great Tit population numbers when breeding time came around again in the following spring.
"You would expect the population to decrease. But that isn't happening," says Sæther.
Sæther and his colleagues say the reason is because the fledglings that do survive the tough spring face less competition as the season goes on, simply because there are fewer Great Tits around to eat all the food.
Works as a buffer
That means while fewer chicks survive the spring, there are just as many Great Tits around at year's end to take part in the following breeding season.
This combination of lower chick survival and less competition for food thus forms a buffer against the negative effects of earlier springs.
The study is also a bit of a wake-up call: predicting the impacts of climate change on natural fauna is more complex than it might first appear.
Adaptability
The scientists say their findings suggest that songbird populations can handle climate change better than expected, and that natural populations may be able to withstand a considerable amount of mismatching.
Nevertheless, the mismatch problem cannot be dismissed, not for Great Tits in the Netherlands, nor for moose chewing on foliage in Norwegian forests.
There is a point at which this buffer will be insufficient to keep the population from dropping – you can only stretch the rubber band so far.
Observations are vital
The researchers stress the need for thorough studies rooted in many years of observations.
"If you want to understand the consequences of climate change you need long-term studies to say anything certain," asserts Sæther.
This study has been made possible by 40 years of close observations of Great Tit populations in the Netherlands. The researchers point out that very few biological studies of this quality have been conducted over such long time spans.
Sæther adds that spring has been coming sooner in some areas of Norway in recent years, but the shift has not been as rapid as has been seen in the Netherlands.
----------------------
Read the Norwegian version of this article at forskning.no
Translated by: Glenn Ostling
External links
Related content