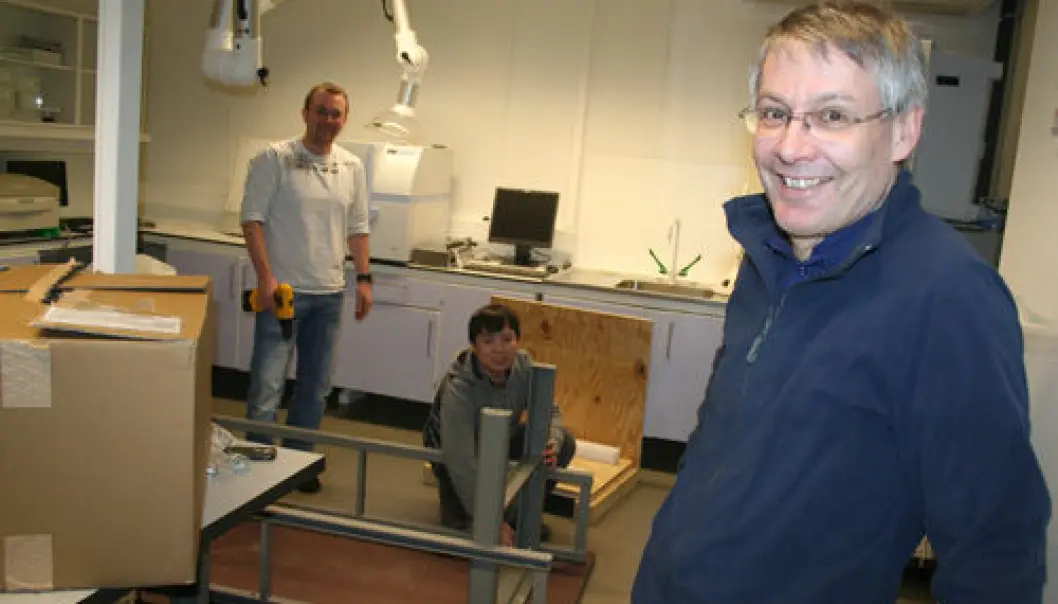 Northern biolab for rent
If you have some good bio-tech ideas but no place to test them, you might consider a travel to the far North.
Denne artikkelen er over ti år gammel og kan inneholde utdatert informasjon.
This is apparently the first endeavour of its kind in Norway. For a reasonable rate you can rent space on a laboratory bench and get access to the Barents BioCentre Lab's advanced equipment.
"We have everything from test tubes and sensitive scales to mass spectrometers and equipment for gene sequencing," says Erling Sandsdalen, who heads the company.
He is research manager at the Northern Research Institute (Norut) in Tromsø, which is responsible for establishing the rent-a-lab.
Venture capitalist with no lab?
The purpose of the offer is to help fire up business developments in the biotechnology sector.
Sandsdalen thinks that a typical user will be an innovator who has some ideas to test and needs the infrastructure to do so. But he also welcomes established firms that have labs but lack some of the equipment that can be found at the Norut-lab.
A little over €4 million have been invested in the lab, which has several specialised rooms. More than two thirds of the costs were channelled into equipment.
The entire investment was funded by Troms County. The lab building is owned by the Industrial Development Corporation of Norway (SIVA).
Everybody can come
Everything should be ready some time this spring and users will not be limited to North Norway.
"Everybody is welcome. Whether they come from Spain or Honduras, they can rent space under the same conditions," stresses Sandsdalen.
The lab can't be best at everything, but the research manager says some of the equipment they have acquired is cutting edge, both nationally and internationally.
A first in Norway
Sandsdalen doesn't know of any comparable offers in the region for users who want to run their own activities in rented labs. The only equivalent he is aware of is in Canada's Quebec Province.
The city Tromsø has high hopes for growth in the biotechnology sector. Sandsdalen mentions enzymes and lipids as areas in which fascinating developments are underway. Much of this development is based on raw materials gleaned from marine life.
The lab is at the Barents BioCentre. It was officially opened last year for the purpose of creating closer links between research and business.
Private and public activities will be blooming side by side at the Barents BioCentre – people in basic research, applied research and in innovation circles are all working there.
"This will be a melting pot," says Sandsdalen.
------------------------------------------------------------------
Read this article in Norwegian at forskning.no
Translated by: Glenn Ostling
External links
Related content