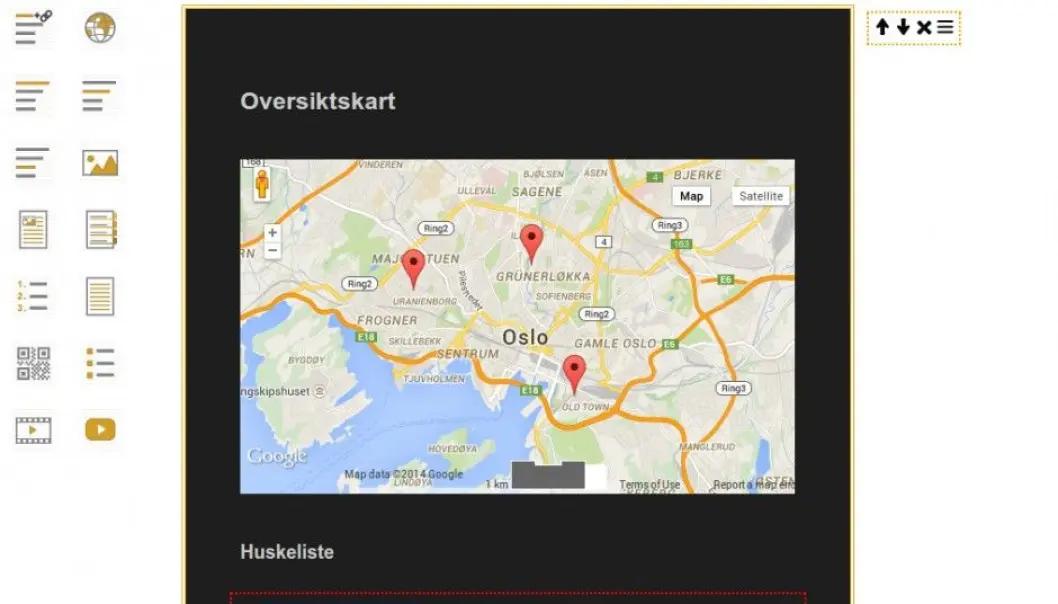 Mobile apps without programming
In the Norwegian Armed Forces, a new tool makes it easy to create training apps. Civilians will also have access if the military scientists get their way.
"We call it PowerPoint kryptonite," says Arild Bergh, pointing to the video projector. An app for learning is taking shape.
We are visiting the Norwegian Defence Research Establishment (FFI). With Cecilie Jackbo Gran, Bergh has developed a tool called Mobile Learning App Builder (MLAB) almost from scratch.
Building blocks
In MLAB, apps are built using the building block principle. The tool can be used without any programming knowledge.
"Look at this. I'll drag down a module for text, and one that shows a map." Cecilie Jackbo Gran manipulates some icons in the window. She is also responsible for the simple design, which is purged of all potentially confusing elements.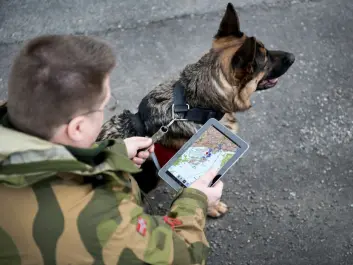 "Previously, PowerPoint was widely used for this kind of training in the military. We want people who create training materials to feel comfortable. But these apps can do much more than PowerPoint," says Bergh.
MLAB contains ready-made building blocks or components that can display things like text, images, video and maps.
Other components are more interactive. They can receive and send information such as answers from a quiz or information about where the user is. Bergh emphasizes that MLAB is still not a finished product; rather, it is a way to explore the use of apps: The way information flows, how learning occurs, and how apps influence the way we work.
Mobile training
A development version was demonstrated at the tank driving school at Rena in Hedmark. The purpose of the app was to track the drivers.
"The students were enthusiastic. They felt that this was one of the most productive apps they had seen," says Bergh.
"There is a tremendous appetite for training materials in the military. The students are often located at several different places and move around a lot, sometimes in the field," he continues.
Therefore, it is an advantage that the training materials can be carried on mobile phones and tablets. Dog handlers in the Home Guard have used similar materials in the past.
Emergency situations
"We are cooperating with the National Defence College. They have a department for distributed learning, and the goal is to build a completely new process around training," says Bergh.
MLAB can also be a useful tool in an FFI project called SINETT 3.0 (Smart Interaction in the New Information Landscape). This project includes research on how the military and civil society can work together in emergencies. MLAB can be used to create apps for, among other things, exploring emergency situations.
"With MLAB, we could create an app that collects relevant messages from Twitter and other sources, displaying them on a map that can be shared with others, such as rescue services, police and fire departments," says Bergh.
A military "app store"
Before Bergh and Gran started developing, they scrutinized the market to find ready-made solutions. But they did not find any good matches.
"Some were too complicated, others were closed solutions that we could not upgrade, and some demanded a continual connection with a network," says Bergh.
This last requirement is a poor fit in the military. Some areas are closed off from the network, placed behind firewalls. In the field, there can be areas without network coverage.
The conclusion was that the researchers at FFI needed to develop their own "app store". Users can download updated versions of the apps, just like in a commercial situation.
Spreading the news
The researchers at FFI would like to share their tool outside the military. They want everyone to be able to use it to create their own apps. They also hope that the application can be opened up. That will enable external parties to contribute new building blocks or components.
MLAB has attracted attention from abroad. In May 2014, it was presented at the annual Conference on Advanced Distributed Learning at the Nordic Defence Cooperation, NORDEFCO.
"Many people showed interest, including a participant from the United States who pointed out that MLAB could be a useful tool for developing countries," she said.
----------
Read the Norwegian version of this article at forskning.no
Translated by: Lars Nygaard