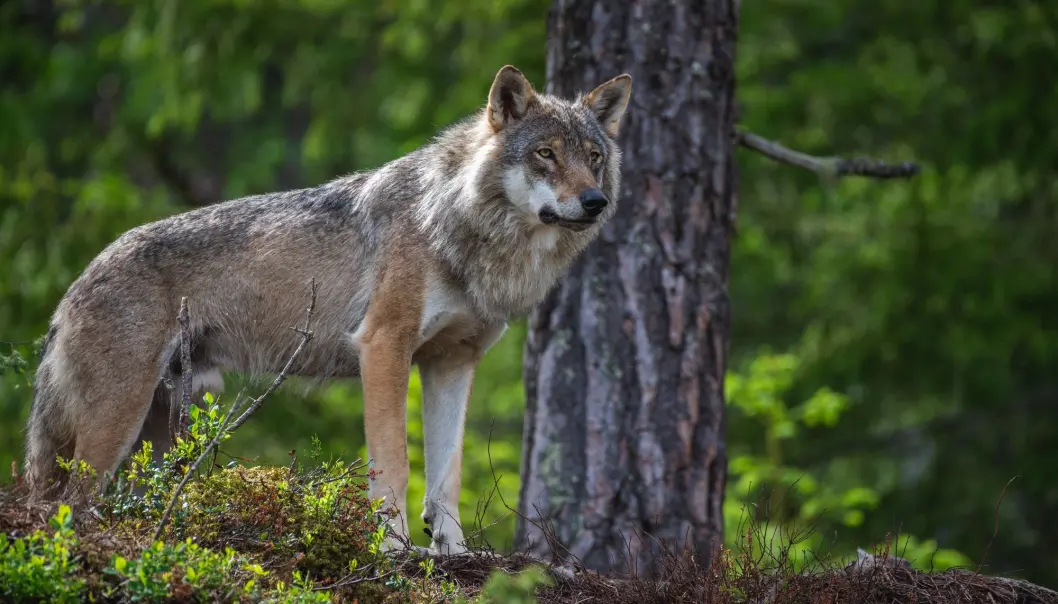 Political controversy over how Norway decides to shoot wolves
If wolves have reached or exceeded target population numbers, is that reason enough to shoot them? The Norwegian parliament recently voted yes to this. The result may be more wolves shot in Norway.
Wolves. Whether to kill them or not, has been a hot topic for debate in Norway for years. It draws thousands of demonstrators into the streets, and creates considerable conflict between politicians, farmers and animal rights activists.
Norway's predator policy is set by the Norwegian Parliament, the Storting. And on Wednesday June 3rd, the Storting voted yes to an amendment in section 18 (c) of Norway's Biodiversity Act.
The law says that wild animals can be killed because of health and safety concerns or if it is of great importance when it comes to the public's interests. The Labour Party advocated for an addition to this law – namely adding that decisions makers should also take into account whether or not the target population for a species has been reached.
Wolves in Scandinavia
The original Scandinavian wolf population died out during the 1960s.
The wolves found in Norway and Sweden today are descended from a small number of animals from the Finnish-Russian population that dispersed as far as southern Scandinavia in the 1980s and 1990s.
The wolf is red-listed as critically endangered in Norway today.
During the 1990s, the Scandinavian wolf population grew strongly, from fewer than ten animals to almost 100 in 1999. Population growth has continued after this.
Norway's national target is four to six wolf litters to be born each year within the designated management area for breeding wolves.
Source: Norwegian Environment Agency
"The condition for shooting animals should be considered reached when the population target is reached and shooting them does not threaten the survival of the population," the proposal said.
Although thought to not pass, with the support of the ruling Conservative Party, Høyre, it did.
"No matter what the new practice will be, the decision is clear: It will be easier to shoot wolves in Norway from now on", wrote the national newspaper Dagbladet in an editorial. The newspaper stated that even if the amendment is not in violation of the Bern convention to protect wildlife, it is certainly in violation of the convention's intentions.
Norway's target population for wolves is based on reproduction numbers. The current target permits four to six litters every year. At least three must be in territories that are completely in Norway, while litters that are in territories that straddle the Norway-Sweden border are counted as half a litter.
Protected and critically endangered
The Liberal Party of Norway (Venstre) believes the change is in violation of international commitments.
"The population target is set to ensure the survival of the species. Unfortunately, several political parties believe that the population target is a maximum limit for the number of wolves in Norway," wrote Ola Elvestuen, earlier this year, in an article on the political party's website. Elvestuen is a member of the party and was Norway's Minister of Climate and Environment until January this year.
The Socialist Left Party and the Green Party have pointed out that wolves are both protected and critically endangered in Norway, and that the amendment will cause more wolves to be shot. They believe the amendments will cause Norway to violate the Bern Convention if wolf populations come to be managed by population target numbers alone.
The Bern Convention is a European agreement to protect wildlife and natural habitats.
The Progress Party on the other hand, want the legal changes to go further. Most importantly, they want the defined area where wolves have some protection, called the wolf zone, to be reduced by 20 per cent, and for all wolves to be trackable by GPS.
The Progress Party also wanted amendments to section 18 (c), which describes the criteria for deciding when a wolf can be shot. The party says the section should provide "a clear understanding" that keeping wolf populations within the target numbers is a public interest as defined under letter c.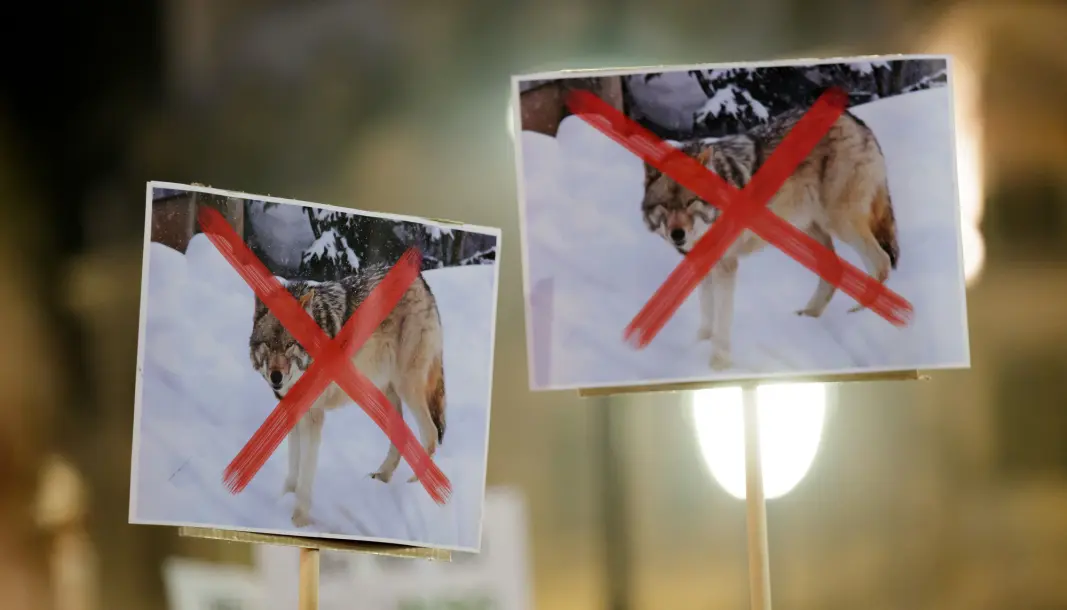 Lots of disagreement
Ketil Skogen is a social scientist at the Norwegian Institute of Natural Research (NINA) who studies conflicts over the use of nature and attitudes towards large predators. Skogen has closely followed the debate on wolf management.
"Overall, the proposals from the Labour Party and the Progress Party reflect a desire to tighten the law so more predators can be shot, especially wolves," he says.
He believes the proposals reflect the great amount of disagreement in recent years over how many wolves can be shot.
"Some people believe that there has been a series of environmental ministers who have sabotaged the Storting's decision by not reducing the wolf population to the target numbers," he said.
Victory in the courts
The WWF (World Wide Fund for Nature) sued the Norwegian government when 28 wolves were shot in 2017-2018. They lost in district court but won in the court of appeals.
The court found that the justification for shooting two wolf packs, one called 'Julussa' and the other 'Osdalen', was not strong enough. However, the decision to shoot 12 wandering animals was ruled as valid.
Protected animals can be shot to prevent damage to livestock or to control wandering animals, or if the animals in some way conflict with "public interests of substantial importance".
The majority in the court believed that in this case, the state had gone beyond the limits of how the Biodiversity Act could be interpreted. The case has been appealed to the Supreme Court.
Recently, the animal welfare organization NOAH also announced that they are suing the government. They believe the killing of another wolf pair and their two year-old pups was illegal. The wolves were shot in January this year inside the wolf zone.
"In NOAH's opinion, the government has broken the law by shooting wolves primarily out of a desire to keep their numbers at the 'population target'. NOAH believes we need to get a legal clarification on this," Siri Martinsen, who is head of the group, told the Norwegian national news agency NTB.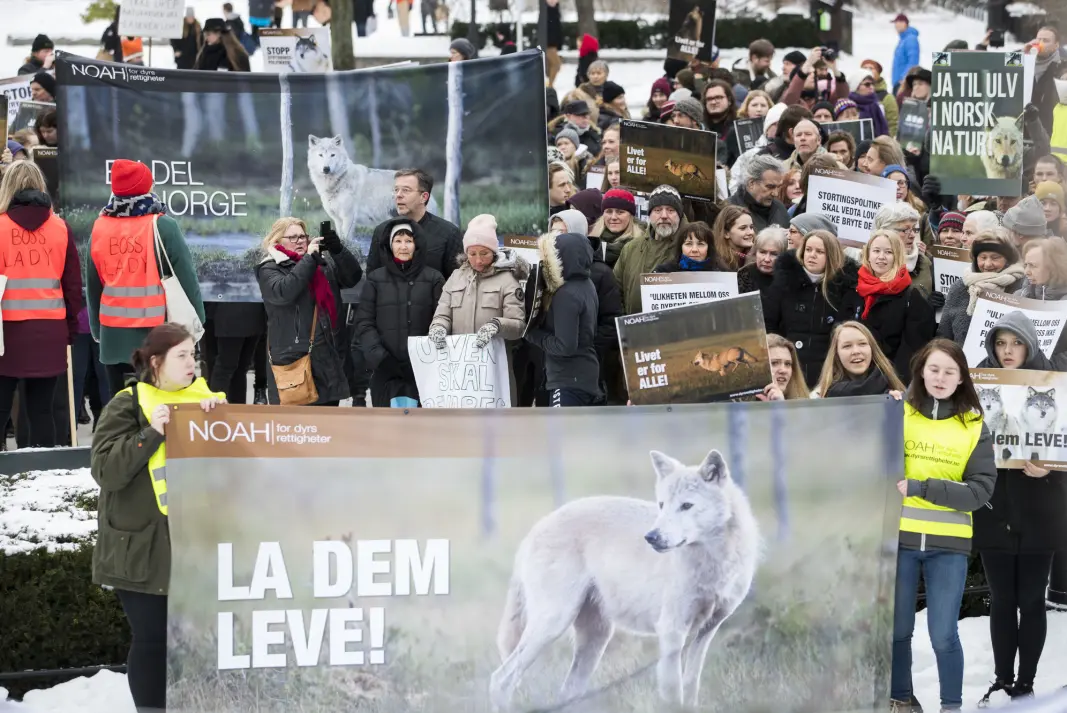 Is the population target high enough?
But why does debate continue to rage when the Storting has already decided how many wolves should be allowed to live in Norway? Skogen says that many question whether it is legal to adopt a population target that is so low that the species remains endangered.
"It's clear if you have a policy that causes a species to be highly endangered, it is difficult to say that it is in compliance with the Bern Convention and the Norwegian Biodiversity Act, where the intention is that endangered species should stop being endangered or threatened. That's both the spirit of the convention and the law," he said.
Norway's Minister for Climate and Environment, Sveinung Rotevatn, told the Green party's leader, Une Bastholm, that the Bern Convention does not allow making a population target an independent criterion for killing wolves.
In practice, Norway's predator populations are already managed as close to the target as possible.
Responsibility shifted to politicians
Håkon B. Stokland is an associate professor at the Department of Interdisciplinary Studies of Culture at the Norwegian University of Science and Technology (NTNU), and has written about how Norway's wolf population goals came into being.
"The wolf came back to Norway in the 1980s. With them came the need to have a target for the least number of animals that could live in Norway so that the population was still viable," he said.
Initially, this was a question for scientists. Then the authority was given to government managers, says Stokland.
"Finally, with the release of the predator white paper in the early 2000s, the responsibility shifted to politicians, who defined how many wolves it would take to call the population viable. This last shift is when what was originally intended as a minimum goal was turned into a maximum goal," he said.
Lost livestock in grazing zoned areas
Researchers behind the project "Beiteressurs, rovdyr og localsamfunn" (Grazing resources, predators and communities) have investigated how predator management affects farming communities that depend on grazing livestock. The project, which was a collaboration between researchers in Norway, the Nordic countries and Europe, has just been completed.
Katrina Rønningen, senior researcher at Ruralis, the Institute for Rural and Regional Research, was in charge of the project.
"Norwegian predator management is based on zones, with some areas that prioritize predators and others that prioritize grazing animals. But predators obviously do not see these limits," Rønningen said to sciencenorway.no.
Predator livestock losses have been declining in recent years. This is partly because farmers are keeping a closer eye on their animals, but mainly because sheep farmers no longer graze their animals in predator zones, especially in the Innlandet County area, says Rønningen.
"The sheep are either behind a fence, or sent to other areas," she said.
Researchers are now seeing that losses have shifted to grazing-prioritized areas, within a certain distance of predator zones.
"The predators follow the sheep. In practice, it then becomes difficult or impossible to have livestock in areas that are zoned for grazing. How do we deal with this?" Rønningen asked.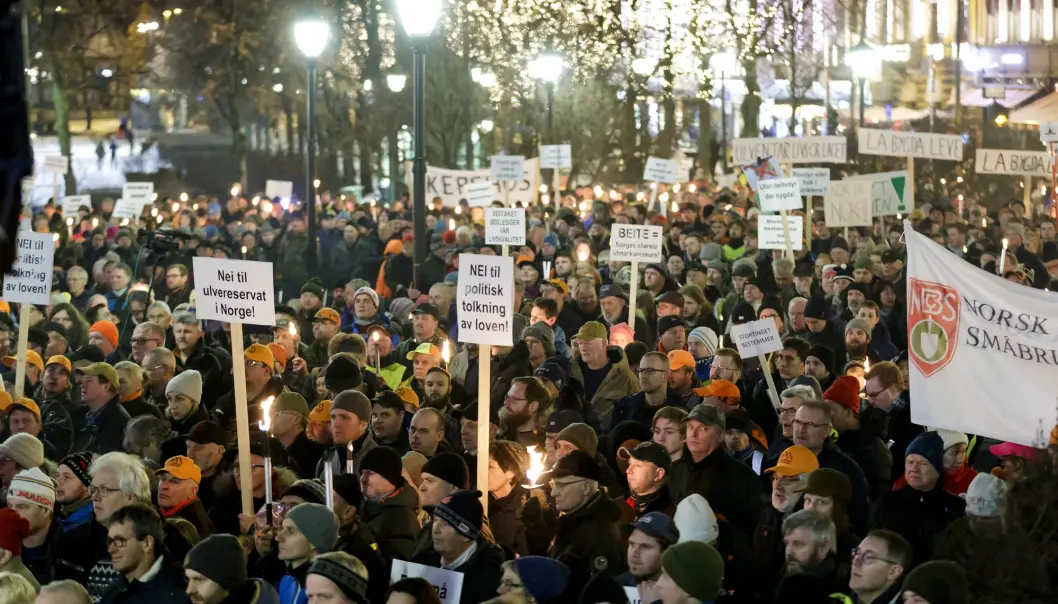 People are bitter
The researchers interviewed farmers who say they have invested in areas that were prioritized for grazing based on recommendations from the agricultural authorities and Innovation Norway.
"Clearly people are bitter when they have invested in these areas, and now see that their animals can no longer graze there," Rønningen said.
The farmers they interviewed also said they expect more predators to be culled. They believe that the threshold for shooting predators in grazing priority areas must be lower, the final report on the project states.
The researchers wrote that the psycho-social stresses of having grazing animals where there are predators are significant. Interviewees reported sleep problems and insecurity. The worst thing, the farmers said, was finding injured animals who had suffered greatly.
Call for a clear policy
According to the report, closing down sheep grazing in areas where predators are a problem is unlikely to have any consequences for the Norwegian food supply.
"Until recently, sheep numbers have remained relatively stable nationwide, because numbers have grown in other areas," the researchers wrote.
Rønningen says that that practice of dividing areas into zones can only continue to work if there is an effective way to cull wolves that maim or kill sheep in grazing-zoned areas.
In this situation, she says, decision makers should put an emphasis on whether the population targets have been reached, so that farmers in the pasture-prioritized areas can understand the basis for decisions. If not, this will undermine trust in government managers.
"If decision makers aren't concerned about previous population targets, but instead increase them, it has to have consequences and it must be followed by a comprehensive policy," she said.
She says it is important for the policy to be clear.
"This is a question of being honest and open in politics and management, and not just playing fast and loose with population targets and zones, effectively expanding wolf zones. That would change the basis for the current management policy, which really needs to be addressed in a broad assessment, with consultation and review," she said. "And you have to be clear that this is what is being done."
Should not be decided in court
Rønningen thinks the recent decision to amend the Norwegian Biodiversity Act reflects that the grazing prioritized areas have not been sufficiently safeguarded so far. 55 per cent of the country's land area is carnivore prioritized, according to the researcher.
"Politicians are probably also seeing the Swedish and Norwegian populations of wolves and bears more in context. Sweden and Norway have a long common border, and Norway is only 6,2 km wide in the narrowest part", she says.
"Norwegian environmental organisations are active internationally informing about Norwegian predator policy as seen from their point of view", says Rønningen.
She expects more court cases, but thinks this may be an unfortunate development.
"In general it's not good if the policies and management of predators and other issues to a large extent is to be decided upon in court all the time. In any case, I hope protests from either side and disagreements can happen as part of an informed debate".
Difficult to prevent wolves from entering core areas
Skogen says it's clear that wolves are a big problem for people who have started sheep farming and now feel they can't continue. But he says it will be very difficult to prevent wolves from returning areas that are suitable for them unless Norway exterminates them and get Sweden to do the same.
"It's hard to say how to protect yourself. Østerdalen and Østre Hedmark are exactly the core areas for wolves in Norway. Here, grazing sheep has not been that significance from a historical perspective. These are forested areas, much more like the Swedish areas across the border, than more traditional small-scale agricultural areas in western Norway and Gudbrandsdalen," he said.
Sheep numbers have increased a great deal since the late 1960s, Skogen says.
"That trend is very clear, starting with grazing sheep in the forests in this area. It's not so easy now. But the question is, do farmers have to graze sheep here?" asks Skogen, who lives in one of the areas.
"Of course, this is a very serious issue for the people who are affected. But many other things can be serious too, and can negatively affect people's everyday lives, such as intensive forestry and wind power development. Wolves can equally be seen as something positive. People think very differently about encounters with wolves and living near wolves," says Skogen.
Translated by: Nancy Bazilchuk
———