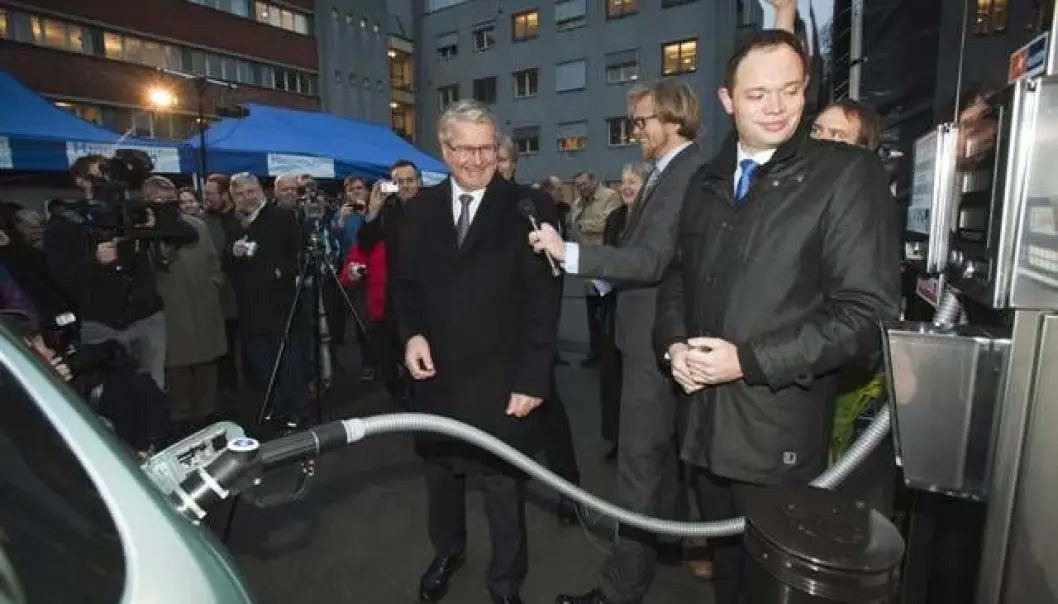 Highlighting hydrogen cars in Oslo
An EU-financed project aims to turn Oslo into a display window for fuel-cell cars.
Denne artikkelen er over ti år gammel og kan inneholde utdatert informasjon.
Oslo's Mayor Fabian Stang recently opened a new hydrogen filling station at SINTEF's research facilities at Gaustad, on the north side of Norway's capital. Another two stations in greater Oslo will open in 2012.
As a start the filling stations will supply fuel to 17 brand new fuel cell cars. The cars and the station at Gaustad are part of the EU-financed showcase project H2moves Scandinavia.
The project has a 20 million euro budget and its goal is to jumpstart the introduction of fuel cell cars in the market.
The lion's share of Norway's electricity is generated by hydropower. This is one of the reasons why the EU project selected Oslo as its show window, according to Steffen Møller-Holst, the research organisation SINTEF's market director for hydrogen technology.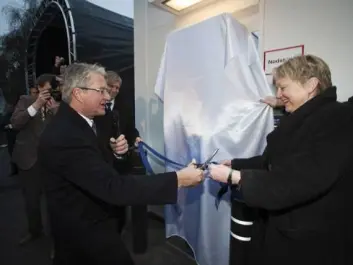 "Most of the electric power production in Norway is renewable. However, we buy our power in the Nord Pool market, which also comprises electricity from fossil sources. The project buys green certificates for all the power used to produce hydrogen for the cars. This ensures that these hydrogen cars are environmentally friendly in a cradle-to-grave perspective," says Møller-Holst.
Duty free
Another key reason for initiating the project in Oslo is economic.
"Norway has very high tolls on vehicles but electric and hydrogen cars are exempted from Vehicle Import Duty and VAT. This means that cars using fuel cell technology can be expected to hit the market earlier in Norway than for instance in Germany, where they have to compete against much cheaper petrol and diesel cars," explains Møller-Holst.
The economy angle is vital. Hydrogen cars are still more costly than comparable petrol and diesel cars. Ten of 17 cars in H2moves Scandinavia are being leased through the Norwegian auto retailer Bertel O. Steen. They don't come cheap.
Leasing one of the project's ten Mercedes-Benz B Class cars costs 1,350 euro a month. According to Møller-Holst this is two or three times what it costs Norwegians to own a comparable car with an internal combustion engine. He points out three prerequisites for hydrogen cars becoming competitive in the future.
"First off, cheaper materials in the fuel cells have to be developed, and secondly the production volumes of hydrogen must be expanded to cut costs of the fuel."
"Last but not least, the functional life of fuel cells needs to be prolonged," says Møller-Holst, and adds that SINTEF has special competence in this field. It's involved in a number of EU projects in collaboration with European industry and other research institutions.
He says that new and better materials are constantly being developed as are exciting concepts that lower costs. The cars' production volume has to be expaned before they can compete in price. This year Daimler is manufacturing around 200 Mercedes-Benz B-Class with fuel cell technology.
Getting cheaper
With such small-scale production the prices are naturally high. But progress is being made in this area too. According to Møller-Holst, figures from the US Department of Energy show that when production reaches a half million units the fuel cell system will be no more costly than an internal combustion engine. Daimler claims it can manufacture competitively priced fuel cell cars even with a much lower volume.
"Daimler has said it will start series production in 2014-2015. We're talking then of about 10,000 cars a year. Their stated goal is to get the price down to that of comparable models with internal combustion engines. Then we could sell them at about the same price as petrol or diesel models here in Norway," says Henning Larsen, environmental manager at Bertel O. Steen.
Fuel cell cars are the latest generation of hydrogen cars. Although they get their energy from hydrogen gas, they have more in common with electric cars than other gas-fuelled vehicles. A new hydrogen car is powered by an electromotor. The electricity is supplied by a fuel cell.
They have a mini-power plant in which hydrogen from a fuel tank reacts with oxygen from the air. On the tail end of the equation you get water – and enough electricity to run an electromotor.
Starts as water, ends as water
SINTEF is acting as the coordinator of the Norwegian part of H2moves Scandinavia. Other Norwegian participants are Bertel O. Steen and Hyundai Norge. The project has also received support from Transnova, a state project aiming at reducing CO2 emissions in the Norwegian transport sector.
Fuel cell cars do not discharge carbon dioxide, nitrogen oxides or unhealthy particles. This makes them much better for the environment than petrol or diesel cars. However, the issue of how environmentally friendly hydrogen vehicles are depends on where the hydrogen comes from.
Hydrogen is now commonly made from natural gas. But the new filling station at Gaustad makes hydrogen using a method many might remember from their science classes: splitting water through hydrolysis.
Into the future
Before long you might be driving to your holiday cabin in a hydrogen-powered family car. At least if your cabin isn't too far from the capital. A family car with a fuel cell can drive 400-500 km on one tank. Even though Oslo is about to get Europe's highest density of hydrogen filling stations, they are still few and far between in the rest of the country.
In 2006-2009, SINTEF, NTNU and other Norwegian industrial partners carried out a comprehensive study of the potential for hydrogen as a fuel in Norway. The project was supported by the Research Council of Norway and dubbed NorWays.
This study concluded that Norway needs 1,100 filling stations to give Norwegians sufficient access to hydrogen nationwide. By the end of 2012 the total will be seven. Fuel cell cars may be the wave of the future. But for now outside of Oslo it's going to remain troublesome, if not impossible, to power a car on hydrogen.
Translated by: Glenn Ostling
External links