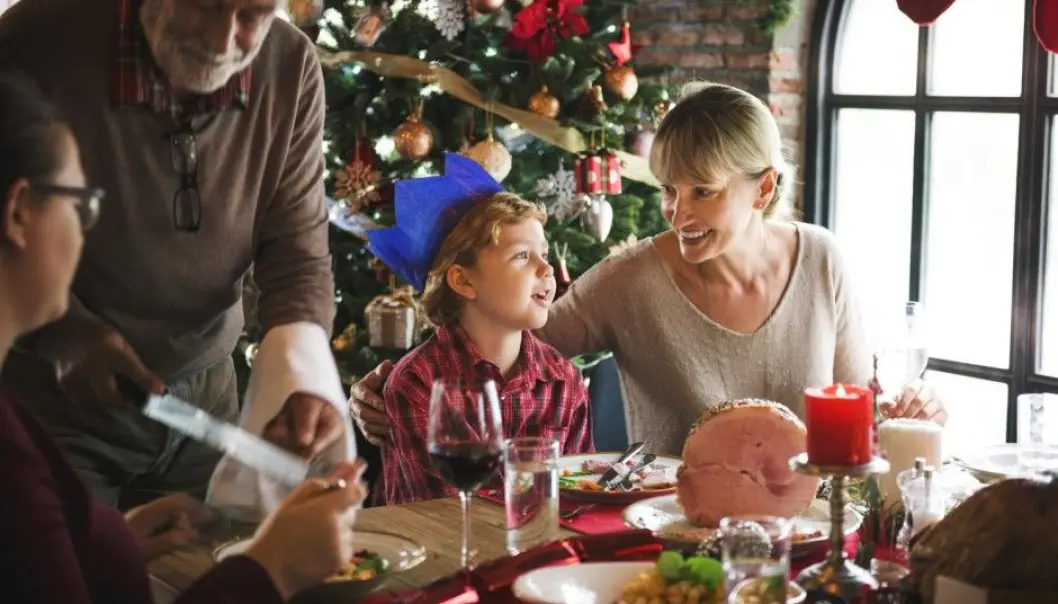 When alcohol ruins the holidays — and beyond
Nine adults told researchers in detail how parental drinking affected their childhood years, especially during the holidays. The problem was swept under the rug to maintain a façade of a normal, happy family, while the kids felt betrayed by other adults around them.
When a parent has an unacknowledged drinking problem, it can have serious consequences for children. Children who come from these families describe an everyday life that is full of uncertainty and insecurity.
This was part of what researcher Anne Werner from the Health Services Research Unit at Akershus University Hospital (Ahus) found when she interviewed nine adults about their experiences during a childhood where one parent drank too much.
The average age of the participants was 39, yet the memories of their childhoods remained vivid. None of the parents of the study participants had admitted they had a problem or sought help.
All the parents in question had jobs, some of which were senior positions. The majority of the people she interviewed grew up in what looked like normally functioning families.
"An important finding was that these families had very little or no contact with health care personnel about the parent's alcohol problems," Werner said.
Affects holidays but everyday life, too
Alcohol problems can be a difficult subject to talk about, whether for the family, health professionals, or other people who might be in a position to discover that parents and children are struggling.
"An important finding is that all participants felt betrayed by many different adults in childhood," says Werner.
The adults around them never asked the children how they felt, or whether the children needed help and support. This was true for both family and neighbours, as well as teachers, nurses and the family doctor, Werner said.
Over the long term, the fact that no one ever talks about these problems can have many negative consequences related to stress, the researcher said.
Took an adult role
All of the participants emphasized how they struggled to fix their family's problems throughout their childhoods.
They were used to behaving so they wouldn't provoke the parent who had a drinking problem. They walked on tiptoe and tried to avoid irritating their parents. They felt that they had no choice but to act like adults.
Gunn (researchers gave all participants fictitious names to protect their identities) described a childhood were she worked with her father to do everything she could to prevent her siblings from fighting with her mother, so that her mother would not start drinking.
"I was both the Minister of Domestic and Foreign Affairs in the house," she said. "I fixed and arranged everything so that Mom would never get in a bad mood. I took care of everything."
The liver can endure more alcohol than children can
Werner wanted to see how Norwegian support system handles alcohol problems in parents, as seen from the family's perspective.
"The liver of a person can endure quite a lot more alcohol than what the kids and family can endure," Werner said.
Children whose parents have alcohol problems are at high risk of having stressful experiences during childhood and subsequent health problems, although research shows that many are doing quite well.
Werner believes it is a paradox that the World Health Organization considers a certain number of units of alcohol for women and men as "safe" limits.
"I want to stress that it is difficult to know when alcohol will become a problem, and for whom," Werner said.
"My mom ruined Christmas"
Another study participant whom the researchers called Betsy described a particularly painful holiday memory.
"One Christmas my mom was hung over as usual and couldn't celebrate Christmas. Dad wanted me and my sister to talk to Mom and ask her to pull herself together, since he hadn't succeeded," she said.
"Mom played the victim, there and felt sorry for herself. She vomited and had diarrhoea. Dad told me to go up and hug her and wish her Merry Christmas," Betsy told the researchers. "I think it shows that he chose not to see the problem."
"She destroyed Christmas, and I was supposed to give her a hug? I refused, and Dad was mad at me because I was so harsh," she said.
Didn't know what was normal
Several of the study participants described how their parents were quick to stay sober outside the home or waited to drink until after guests had gone.
Gradually these children began to understand that their parents had a drinking problem, but few of them told other adults about it.
Especially for teenagers, it was important not to stand out, or to risk being unpopular among friends. Erik described it like this:
"I never invited friends home, and I never talked to anyone about it. I don't know why. But I remember that I wondered for a very long time if it was normal that my father drank as much as he drank. So I doubt I actively sought to hide it, because I really didn't quite know if it was normal or not."
Other adults as a safe haven
Werner says it is important that healthcare professionals in particular talk about alcohol as a possible problem, without overreacting, to help children and those who struggle with alcohol.
Some participants had grandparents, neighbours and friends' parents who realized that they needed support or a safe place, and helped them in difficult situations in everyday life.
"Several participants said it meant a lot to have a safe haven with other adults where they could come without having to explain that Mom or Dad drank too much," says Werner.
But mostly the problem was never discussed.
Health professionals must offer more support
Some participants had told the family doctor, emergency room or hospital personnel about parental alcohol problems.
But this was mostly one-way communication. Health care personnel had already seen many of the parents because they had hurt themselves or had accidents due to alcohol abuse, but there had been no follow-up.
"We must create a system that can intercept this without it being at the initiative of the next of kin," said Erik, one of the participants.
Another participant, David, said: "You can be angry and disappointed, but at whom? At everything and everyone; there are so many people to blame. There are health professionals, doctors and others who are contacted. And then there are teachers. Everyone shares the blame: Everyone thinks that there must be other people who are talking to the person with the drinking problem to tell them they have to get help. But ultimately no one does."
What friends and family can do
Family, relatives and friends may feel uncomfortable "taking sides" on behalf of either the children or the parent with the alcohol problem.
"At the same time, help from neighbours, relatives and family is valuable," Werner says.
"We can help without making the situation worse, by being a safe haven where children can seek refuge. It can help them cope with the uncertainty, stress and strains of everyday life, regardless of whether the person who has alcohol problems recognizes the problem and wants help or not."
She feels that family doctors and nurses have a particular responsibility to let children know that they are there to help.
"They need to do more to give children and young adults the chance to share their concerns, and can listen for clues about family difficulties without forcing children to say anything if they don't want to," she says.
Werner added that helping children and their families has also been shown to help convince the person who has alcohol problems to want to accept help.
Anne Werner is a senior researcher and sociologist and conducted the study with Kirsti Malterud, a medical doctor and researcher at the Research Unit for General Practice, Uni Research Health and at the Department of Global Public Health and Primary Care, University of Bergen.
--------------------------------------
Read the Norwegian version of this article at forskning.no
Scientific links
Related content