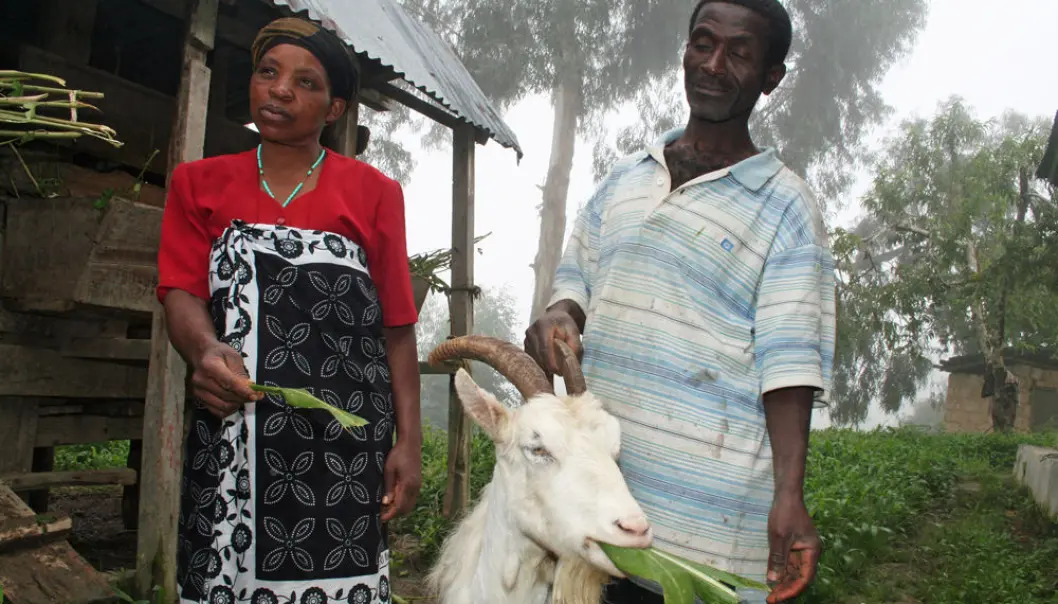 Norwegian dairy goats thrive in African mountains
Eighty Norwegian dairy goats were flown into Tanzania thirty years ago. Now there are 300,000 goats with genes from these founder animals on dairy farms in mountainous areas.
Tanzania's Uluguru Mountains are a green paradise, with verdant slopes that rise over 2,600 metres. But now, not far from forests populated with yellow baboons, blue monkeys and black-and-white colobus monkeys, you'll find goats of Norwegian ancestry in the mountain towns of this East African country.
The goats live on steep terraced hills planted with corn, bananas and coffee, at altitudes that would be barren and rocky in Scandinavia. They are a result of a long-term Norwegian-Tanzanian research partnership aimed at boosting small-scale milk production. The partnership has helped many farmers diversify and has yielded tangible benefits.
Important income
Simforiani L. Mahenge and his wife Jovita Joseph have been producing milk from a breed of Norwegian goats since the 1990s. They are among the pioneers of the project and have two small sheds full of the good-natured but stubborn Norwegian dairy goats with black-and-white shags.
"The project has brought us all kinds of benefits," says Simforiani.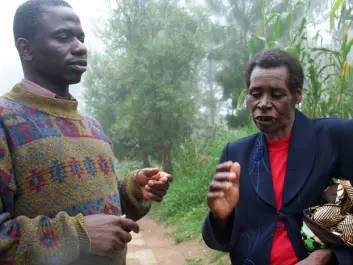 The family has plots of land where they grow tomatoes, cauliflower, corn and beans, along with their goats.
While the success of their crops may vary from year to year, the goats provide a steady income year round. Simforiani points out that the goats also produce manure that can be used to fertilise the crops and that their milk fetches a good price. They can also make money by breeding and selling goat kids.
Paid for education
This income has made a substantial contribution to paying school tuition for the family's six children. Several of them now attend secondary school.
"The goats have really helped our family," says Jovita Joseph.
In addition to the extra income, the family has benefited directly from the goats' milk, because it improved the diet of the children as they were growing up.
"The children drank a lot of milk. They grew to be strong and healthy," she says.
Malnutrition is a major problem in Tanzania, where young children often subsist on cornmeal. A UN report shows that from 2000-2010, 16.2 percent of the country's children under the age of five were underweight and 42.5 percent were too short for their age.
Life goes on
The family gets about 50 Euro cents per litre for their milk, which is a good income in Tanzania, particularly as the goats produce around 12 litres of milk a day. Some of the milk is sold and some is given to orphans in the town.
Tanzania's economy is growing, and the dairy goats are evidence that not all this money is gravitating to the cities.
Simforiani is optimistic. He says that his life as a small farmer has improved.
"We are making gains. We work hard but the whole family works together," he says.
Long-term project
The Norwegian dairy goats are the result of collaboration between the Norwegian University of Life Sciences (UMB) and Tanzania's Sokoine University of Agriculture (SUA).
The project has periodically received support from the Norwegian Agency for Development Cooperation (NORAD).
Georg Msalya has a PhD in genetics and lectures on animal husbandry at SUA. He is actively involved in the goat project, which he deems a success.
From its modest start in 2009, the project now has 400 dairy farmers in the Uluguru Mountains.
"This shows that the project's farmers have done a great job. We are really appreciative. We see that people like working with the goats," says Msalya.
Poor man's cow
Professor Lars Olav Eik has decorated his office at UMB in Ås, Norway, with Norwegian and African cowbells.
As an up-and-coming agronomist he accompanied the first goat kids to Tanzania in 2009. He still coordinates the Norwegian input to the project.
Professors Martin Luther Kyomo of Tanzania and Asmund Ekern and Ola Syrstad of Norway initiated the effort.
The outset was a desire to boost the East African country's dairy production. Goats were a natural choice.
"Goats are known as the poor man's cows," says Eik.
Norwegian kids
"We discovered that Tanzania had no dairy goats and decided to send them some Norwegian kid goats," says Eik.
The first goats were transported by air, with the young goats shipped in cargo cages designed for dogs -- three kids per cage.
Eik spent two-and-a-half years in Tanzania taking care of the Norwegian kid goats. After SUA experimented with them at a site just 500 metres above sea level, the researchers decided to move them higher up – into the Uluguru Mountains. The goats produced better at a higher altitude.
The animals have since interbred with local goats. There may be as many as 300,000 goats in Tanzania with Norwegian genes.
That figure is just a rough estimate because no one has actually conducted a goat census. What is certain is that the popularity of the Norwegian goats expanded way beyond the framework of the research project.
Making yoghurt
Thursday is market day in the rural town of Nyandira. Alongside the market square is a building that houses rudimentary facilities for producing yoghurt based on goat's milk.
The advantage of yoghurt is that it keeps better in a warm climate and gives the farmers a good cash crop. A solar panel generates sufficient power to run a newly bought refrigerator.
The local school has started a programme to distribute daily portions of yoghurt to pupils. We encountered Leokadia Leo Kilegu, head of the co-op started by the farmers, on her way up the steep slope to the school.
"Norwegian goats have lots of milk. We are really satisfied. This is a wonderful development," says Kilegu. She says she prays the cooperation between researchers and farmers will continue a long time.
----------------------------
Read the Norwegian version of this article at forskning.no
Translated by: Glenn Ostling
External links
Related content